Destiny 2: Curse of Osiris expansion announced
Vexed off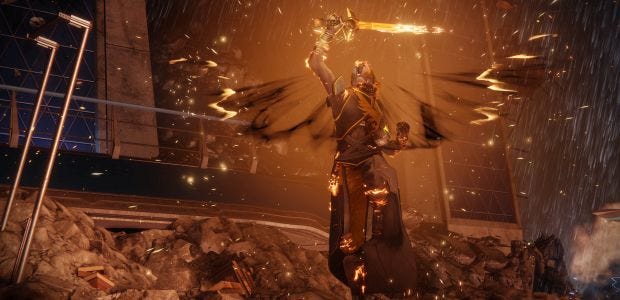 Gather round, Destineers, and take a look at the trailer for Destiny 2's first expansion. The new stuff doesn't start until around 20 seconds in, where we see everyone's favourite Guardian stroll up to Ikora for a chat about "an ancient gate" that's opened on Mercury, where "an army of past and future machines amasses". Looks like The Curse of Osiris will be a... Vex-pansion!
Sorry. You can watch the trailer for yourself after the jump.
Those time-travelling robots haven't gotten up to much since their defeat in the Vault of Glass raid in the first game, so I'm pleased to see them step back into the spotlight. Throwing in machines from the past and future is a great excuse to introduce new enemy types into the mix too, though it's a shame we're not getting an entirely new faction to shoot at just yet.
Here are some specifics from Activision:
"Curse of Osiris adds a new chapter to the world of Destiny 2, expanding the universe by adding an all-new cinematic story with new and returning characters, a new destination to explore, Mercury and its Infinite Forest, a new social space to visit called the Lighthouse, new missions, new strikes, new raid content, new free roam activities, a world quest to complete, and more."
If you're wondering who that Osiris fellow is, he's an old Guardian who was exiled for becoming too obsessed with the Vex. He's been built up a fair amount by this point, having been mentioned multiple times in the lore and getting a whole Crucible event named after him in Destiny the first. You can find out more about him on his Destinypedia page, if that's your thing. Don't worry, it's mine too.
The Curse of Osiris releases on December 5th, and will be available through the Battle.net client.