Destiny 2: Swish 4k 60FPS nonsense and screenshots
Spaced out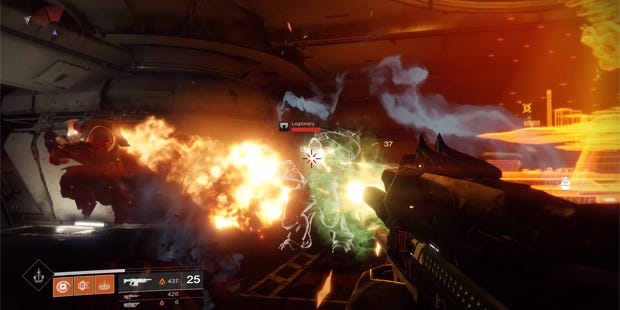 YOU, a reader, may be interested to see this PC Destiny 2 [official site] footage running in 4K at 60fps. It's a marketing push by NVIDIA because graphics cards and numbers and tech etc etc BUT it did mean I could pass watching a minute and a half of Destiny looking pretty off as work.
It will not look like that on my PC. Also, just as an FYI, I play Destiny and you can turn a LOT faster than that with a controller. I assume this is in the service of having a syrupy smooth viewing experience, but it's like watching someone explore a flood in a treacle factory. And of course Destiny 2 supports keyboard and mouse too.
I also have a wodge of screenshots in my inbox because of E3 promo-stravaganza so this feels like a good opportunity to share them!
I've popped them into a gallery format so you can either choose to click through or not. I'd actually recommend using the arrow keys on your keyboard though as it means you aren't chasing buttons across the screen if they flip about.
P.S. In case you missed it the PC version now has a release date. It'll be out on 24 October so seven weeks after the console release.
Arcstrider
Arcstrider
Arcstrider
Arcstrider
Arcstrider
Arcstrider
Arcstrider
Dominus Ghaul
Dominus Ghaul
Dominus Ghaul
Dominus Ghaul
Dominus Ghaul
Crucible
Crucible
Crucible
Crucible
Crucible
Crucible
Crucible
Crucible
Crucible
Crucible
Crucible
Crucible
Strike
Strike
Strike
Strike
Strike
Story
Story
Story
Story
Story
Story
Story
Story
Story
Story
Story
Story
Story
Story
Story
Story
Story
Story
Story
Story
Story
Story
Story
Arcstrider
Arcstrider
Arcstrider