Destiny 2: The Final Shape shows cool big triangle (also resurrection of Nathan Fillion)
Damn it, will a cool shape lure me back to the grind?
Mere hours after I said "even a return to Titan can't bring me back to Destiny 2," Bungie showed something that might just do it: a really big, weird triangle. During last night's PlayStation Showcase, they revealed a teaser trailer for The Final Shape, the upcoming expansion which will end the MMOFPS's decade-long main story arc, and a very good big triangle is involved. Oh, also fan-favourite character Cayde-6 is back, voiced again by Nathan Fillion. But you need to see this big triangle.
That's a great triangle, isn't it? Destiny is a masterclass is big weird sci-fantasy vistas, from the Dreaming City to the Garden Of Salvation (where I couldn't help holding up raids while I took holiday photos). A lush valley with an ominous big triangle feels tailor-made to win over me specifically. Ah god damn it. And I do want to know how Bungie wrap up the current 'Light & Darkness Saga' before moving onto stories new. That's a lot of story threads to pull together, a lot of setup aching for a payoff. Ugh. Maybe I'll take a little look when The Final Shape arrives in 2024. Just a little look. At the big triangle. Nothing else.
Bungie are very good at cool big shapes. The Traveller, our big magical ball friend, there's another. Those Darkness pyramids, lovely. A nice Halo ringworld. And their reboot of Marathon as a PvP extraction shooter, announced last night, has a cool mystery shape too.
Oh, yeah, also, I guess Cayde-6 is back in some form in The Final Shape. That's noteworthy. He's supposed to be dead. Maybe he still is? It's not clear what's going on here, nor where 'here' is.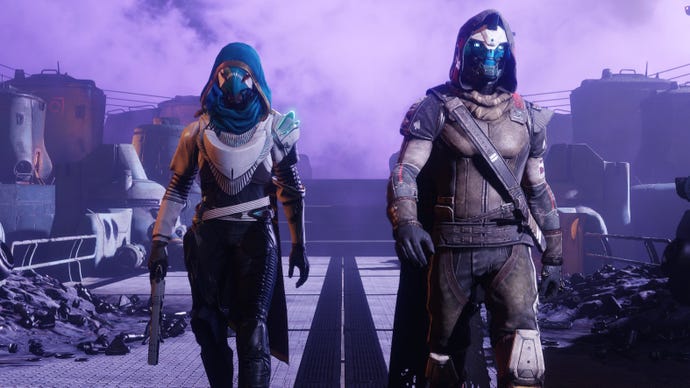 Wisecracking roboman Cayde-6 died during the opening mission of Destiny 2's Forsaken expansion, killed with his own gun by haunted weirdo Uldren Sov. The player character hunted down Uldren, but his corpse was later reanimated as a fresh new amnesiac Guardian. This fella, who calls himself Crow, is honestly a lovely lad. Crow has since regained Uldren's memories but he's still a little sweetie—and is kinda unofficially filling Cayde's role on the Vanguard council. Some argue that Crow should officially take the role of Hunter Vanguard, having kinda-sorta-ish fulfilled a condition in Cayde's will whereby if a Hunter killed him, they'd have to take the unpopular job. Ah, I'm sure they'll kiss and make up just fine, eventually. The sci-fi soap opera of Destiny is big on forgiveness.
When Cayde died, mind, he wasn't actually voiced by Nathan Fillion. What with being a famous fella, he was too busy to record Cayde's lines in Forsaken, so he was replaced by Nolan North doing honestly a great Nathan Fillion impression.
Fillion said at the time, "Unfortunately these things don't work out and it's a little bit heartbreaking but if it has to go to someone else, then thank god it goes to someone I absolutely love and the fans love." North was already in Destiny as the voice of our little Ghost buddy, having taken over the role originally performed by Peter Dinklage. Now Fillion is back, and I think we need to somehow arrange for Dinklage to fill in as Cayde and for Fillion to do Ghost.
Bungie will reveal more of The Final Shape during a Destiny Showcase event on the 22nd of August. They also plan to "provide a look forward into the future of Destiny 2." Whatever story follows the Light & Darkness Saga, I hope it involves cool big shapes.