Deus Ex MD: The Bank Job
Pre-emptive thievery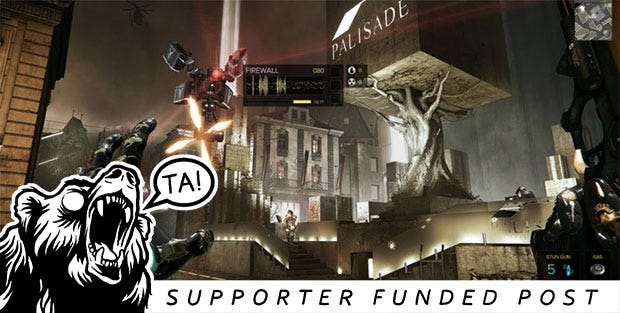 I've been struggling to enjoy the characterisation of Adam Jensen in Deus Ex: Mankind Divided (prompting a great many 'you can't say that until you've played more of the story' comments, which sadly miss the crucial fact that the joyless Jensen is actively deterring me from wanting to see more story), so I made the decision to treat it as a stealth-action toybox instead of a campaign game. This means freeform burglary across its impressively large (albeit loading screen-divided) rendition of future-Prague.
Perhaps, in a way, I am roleplaying as post-DXHR Adam Jensen after all: none of his plans worked out, the world's still gone to hell, so why give a crap about any of it? Instead, why not use his magic-mech powers to get crazy rich?
Read the rest of this article with an RPS Premium subscription
To view this article you'll need to have a Premium subscription. Sign up today for access to more supporter-only articles, an ad-free reading experience, free gifts, and game discounts. Your support helps us create more great writing about PC games.
See more information