Dino rhythm game Goodbye Volcano High has been delayed to avoid crunch
Not the end of the world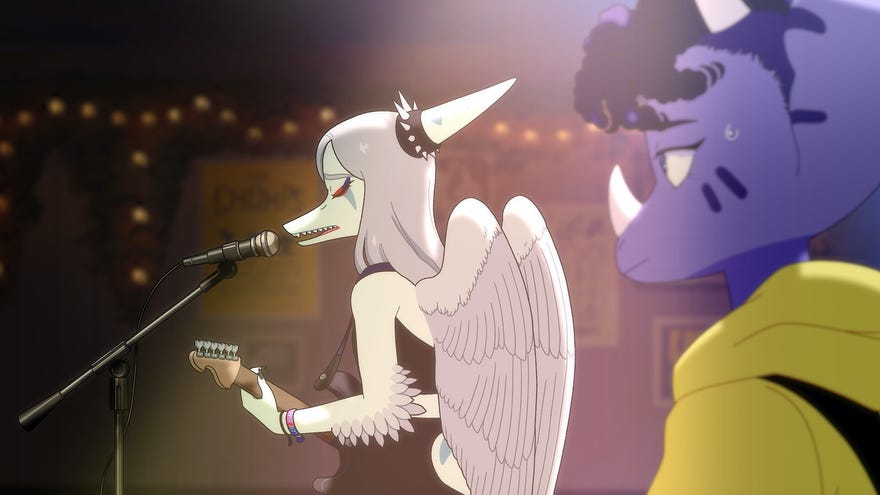 Coming-of-age visual novel Goodbye Volcano High has been delayed to August 29th, developers KO_OP have announced. The upcoming dino drama is being pushed back to deliver the "best version" of the game, avoid crunch, and move out of a busy launch period, the developers say.
"With our current workload, we could not have met our June release date without significant cuts to the quality and scope of the game," KO_OP explained. "This would mean delivering something much different than what we've envisioned and worked toward." Concerning crunch, the team say that launching on time "would require our team to work nights, weekends and early mornings to ship and risk burning people out."
KO_OP also points to the busy month of June - which currently includes Diablo 4, Street Fighter 6, and Final Fantasy 16 - as another reason to delay, as it would give Volcano High "a greater chance of success," away from a busy news cycle.
Goodbye Volcano High had previously been delayed in 2021 to go through a "narrative reboot," but this delay sounds relatively minor.
Part rhythm game, part interactive film, Goodbye Volcano High follows a group of high-schooling dinos - who are also aspiring musicians - during their senior year. There's a healthy dose of teen angst here since entering adulthood is very scary, but adding to that pressure is an impending apocalypse. Maybe an extinction-level meteor? A nifty narrative twist that takes the world-ending anxiety of growing up, and makes it very literal.
Our Rachel played a demo at Pax East this year where she walked away very impressed by its unique rhythm control setup. The studio are also promising "another public demo" very soon after they debuted their first demo as part of the LudoNarraCon digital fest.
Goodbye Volcano High will be available on Steam and PlayStation when it launches on August 29th.