Dirty Rotten Scoundrels: Blackguards Early Access
En garde, Blackguards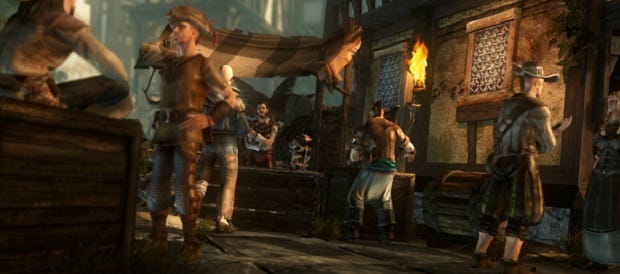 I'm sure everybody goes through a phase when they want the baddies to win. That's why antiheroes were invented and why Han Solo shot first - if every protagonist was a beaming paladin, impressionable youngsters would flock to the guy with all the best tunes. Blackguards is a turn-based tactical RPG, with a focus on combat, and the characters in the player's party are a rum bunch. There's something far worse for them to fight against though and the journey will take them across the Dark Eye setting's world of Aventuria. The game is on Steam Early Access now and there's a trailer below.
As soon as we've had a look, we'll bring some impressions. In the meantime, Daedalic have a few titles in the Humble weekly sale, including Edna and Harvey 2 and The Whispered World. Paying more than $6 unlocks the original Deponia, previous Dark eye game Chains of Satinav (a game about navigation tools and bondage?), and the new release Journey of a Roach.
Writing about rooting for the bad guys brought back a memory. I was watching The Last Crusade with my sister - we were both young enough to be mildly traumatised by the ending of Raiders of the Lost Ark and Crusade - and she claimed that Indiana Jones was being 'unfair' when he said this:
"They can't all be bad. Indiana Jones is mean." Maybe she had a serious point to make about the historical situation and the danger of assuming that anybody beneath a certain flag or symbol truly believes in the ideology that those things stand for. Or maybe she just didn't know what 'Nazi' meant and thought Indiana Jones just hated Germans.
Either way, she's going to be miffed and mightily embarrassed when she reads this. And she never rooted for Indy again.