Hey dood: Disgaea 2 released on PC
Dood!!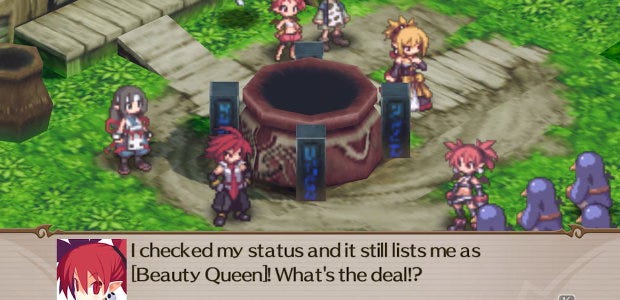 Like a little 'J' in your RPG? Tales of Berseria launched last week, if you fancy a zesty new bottling, or if you want something you might be interested in Disgaea 2 [official site]. Eleven years after its PlayStation 2 debut, Nippon Ichi Software's RPG launched on PC today. Expect to meet leet-speaking penguins, deal nine digits of damage (numbers, not fingers), and gag-o-laff with a lot of silliness.
Here, I'll turn you over to NIS to explain... something?
"Darkness is back. Overlord Zenon has cursed the land, and now, Veldime is transforming into a nasty Netherworld. Memories are sterilized, bodies demonized, the world is falling into chaos. The only one unaffected is a young man, Adell. He stands up to fight the curse, but things never go as planned. The haughty daughter of Zenon, a filthy little frog, lovable demon siblings and a washed-up rock star!? No one can ever predict what goes on in the world of Disgaea. And of course, other Overlords refuse to sit still watching..."
This PC release includes everything from Disgaea 2: Cursed Memories on PS2 and the PSP version, Dark Hero Days, along with three characters never in any western release before. NIS boast of keyboard and mouse support and things too. The first Disgaea's PC port was wonky but initial responses to the sequel seem better. As far as I've seen, anyway; I've not played it myself.
Disgaea 2 is now out on Steam for Windows, Mac, and Linux at £13.49/17,99€/$17.99, which includes a small launch discount available for the first week.