Colour-matching tile puzzler Dissembler flips out
Pleasant and colourful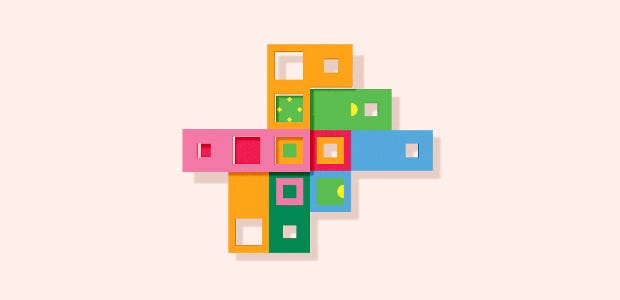 Ian MacLarty is very responsibly tidying all his colours away in his new puzzle game, Dissembler. He has splashed colour about with gay abandon before, sending poor Pip into a tizzy with the shifting colourbomb that is The Catacombs Of Solaris and slopping paint all over in Action Painting Pro, but now he wants us to carefully clean colours away. Dissembler presents us with colourful jumbled collages of tiles to flip to align matching sets so they vanish. It's a bit cheeky that Ian wants us to clean up the colours that he himself spilled everywhere, but I have enjoyed what I've played so far.
It is a match-3 game in that you need to match at least three tiles of the same colour to clear them, but not in that Bejeweled/Candy Crush way. Dissembler, as its name suggests, is about taking these scenes apart. At the end of a puzzle, nothing remains.
I dig it so far. It's pleasing to the eye, the music pling-plongs nicely, the whirring and clicking of flipping tiles is great, and I'm enjoying the progression of puzzling. Some have a pleasing rhythm to them, the same motion repeated across similar shapes, the tiles just flowing away. Though, looking ahead at different types of tiles and puzzle sizes to come, I'm sure I'll be challenged a lot more.
Along with having a stock selection of 120-odd puzzles, Dissembler will offer several new puzzles every day (and even reveal their solutions the next day, if you get stuck and want to know) plus an endless mode with several difficulty levels and online leaderboards.
And yes, it does have a colourblind mode.
Dissembler is out now for Windows, Mac, and Linux through Steam and Itch.io. It costs £3.99/€4.49/$3.99. (It is also on iThings, and coming to Androids soon.)