Dogged Destruction: Ashen Rift
One Stalker and his dog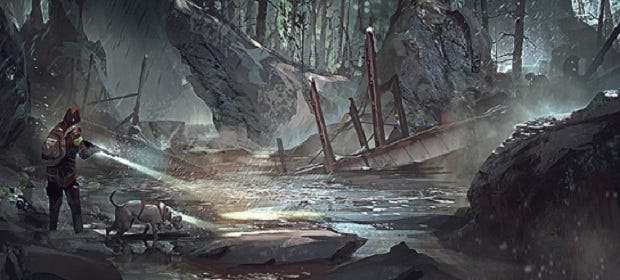 With nine days left on the clock, Ashen Rift hasn't quite gathered half of its target funds. Seeking C$45,000, the first-person shooter/survival horror hybrid has raised just under C$20,000 at the time of writing. When I check back at the end of the day, I expect that number to have risen significantly. The game was already on my radar, simply because it reminds me of STALKER and contains a friendly canine companion, but the latest video shows destructible terrain, collapsing rock formations and sneaky traps. It may have a daft name that keeps slipping out of my memory, but Ashen Rift looks like it may deliver the sort of emergent happenings that I crave.
Do you want to play this? I certainly do. Here's some information about Bounder, the dog.
Interacting with Bounder will be done through a circle menu which will enable the player to shout commands at Bounder which may alter his behaviour, thus changing the dynamic of the situation.

Bounders reactions to sights, sounds and smells will help guide you safely through the world if you learn to pay attention to him like he does to you.

The four way dynamic created between the world, the enemies, the objects and Bounder is subtle and full of potential. On the surface it's a man with a dog, which follows, listens and helps you in a decrepit world full of toss-able objects and monsters seeking to eat anything in their path. Although, the world itself and moments of interaction within will be wide open for the player to craft into their own version of what they think should happen.
Barry Collins, the developer of the game, has 14 years industry experience and....oh lord, I'm going to start sounding like a press release. Slightly shonky explosion graphics aside, I think this looks smart as a whip.