Doom Half-Price To Mark First Multiplayer DLC Launch
Interested?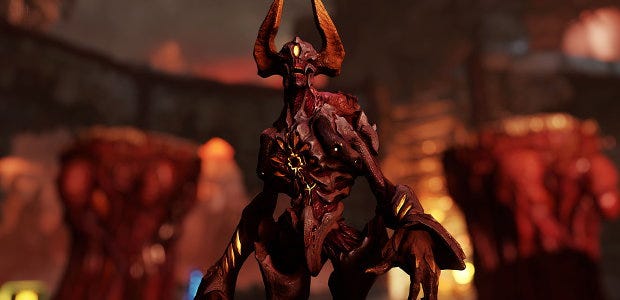 The first bit of Doom [official site] multiplayer DLC is out now for £12 and boy, I feel strange saying that. Look, expansions to id Software's shooter have traditionally been a bit shaky, largely adding so-so singleplayer campaigns made by other studios, but... sheesh, £12 for three maps, a new gun, and some dress-up odds and ends? That's fairly standard for shooters nowadays, I suppose, but it feels wrong for a game from shareware veterans. Not to mention that multiplayer is hardly Doom's strongest side.
But hey, the base game is half-price all weekend to mark this, so that's something.
The new DLC is named Unto the Evil. It adds three new multiplayer maps, one new gun, one new playable demon, a new piece of equipment, then a load of armour pieces, taunts, and Hack Modules. £11.99/14,99€/$14.99 on Steam or included with another two multiplayer add-ons in the £29.99/39,99€/$39.99 DLC Season Pass.
On the bright side, only one member of any multiplayer party need own the DLC to let the rest play too. That's a nice touch, at least. They call this 'PartyPlay'.
As for regular Doom, that's half-price on Steam until Monday, down to £19.99/29,99€/$29.99. We have written quite a bit about how we like it and its bits.
Here, Unto the Evil looks a little something like this: