Dota 2 Manila Major: What You Need To Know
What's the haps in Manila?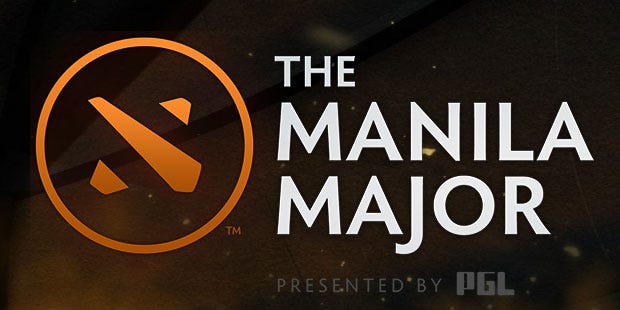 Dota 2's Manila Major [official site] is almost upon us. The full complement of 16 top teams were decided by a combination of direct invites and the regional qualifiers that took place early in May. They'll be competing for a cut of $3,000,000 at the Philippines tournament - the third and final Valve-sponsored Major before August's annual grand Dota-fest, The International.
Valve slightly changed up the invite/qualifier system this time round. Ostensibly faced with too many high-achieving squads to choose from, Gabe and co. directly invited twelve teams instead of the usual eight, leaving just four spots for the four regional qualifier winners. Now that they've been filled, all that's left to do is wait until the main event kicks off, possibly while praying that the many and varied catastrophes that befell March's Shanghai Major don't repeat themselves.
Not up to speed with the invitees or the Manila Major? Here's what you need to know!
So who are the teams?
It's probably easiest if we go group by group.
GROUP A: OG, Team Empire, Newbee, complexity
Frankfurt Major winners OG struggled to find similar success throughout early 2016, most often finishing around the middle of the pack in premier tournaments. However, a string of recent podium finishes will put them in good stead for Manila, especially with support player Andreas 'Cr1t-' Nielsen and midlaner/sort-of carry player Amer 'Miracle-' al-Barqawi both on top form.
Team Empire had a tough time coming through the Europe and CIS qualifier, facing stiff competition even from underdogs like No Diggity and Ad Finem (who themselves met for a brilliant back-and-forth game). Still, this young squad did narrowly win out in a thrilling best-of-five series against the latter; the final game in particular demonstrating each and every player's capacity for exceptional execution. Not bad for a team many considered losers of the post-Shanghai roster shuffle.
Newbee, meanwhile, won the Chinese qualifier without dropping a single game. In fact, they went on to enjoy a record-breaking 29-game win streak that wasn't ended until a loss to OG at Moscow's Epicenter tournament over a week later. Such an achievement bodes well for their chances at Manila, an event they earned access to by seeing off a hilarious Techies/Tiny draft in their final game against EHOME. The only disappointing aspect of Newbee's victory? Neither IG.Vitality nor CDEC, who fought through perhaps the most fantastically bonkers game of the entire qualifiers, got to go to Manila as well.
compLexity occupy that nebulous position where they don't always excel internationally, but can usually and comfortably beat the local competition in regional qualifiers – until very recently, anyway, with Digital Chaos besting them in four successive qualifier series. Regardless, the extra batch of direct invites means they're guaranteed to bring their brand of teamfight-centric Dota to Manila.
GROUP B: Wings Gaming, Digital Chaos, Team Secret, Natus Vincere
Practically overnight, Wings came from poor performances in the China-only H-Cup to winning it all at ESL One Manila in April. Watch out for bold, meta-defying hero picks at their first Major, most notably Chu 'Shadow' Zeyu on a disgustingly effective carry Venomancer.
Having picked up ex-Secret players Aliwi 'w33' Omar and Rasmus 'MiSeRy' Filipsen, a new-look Digital Chaos fought their way to an Americas qualifier victory, a run which included this brutal 10-minute beatdown of Dragneel.
It was a vindicating run for the previously-struggling organisation, losing just two games throughout the entire group stages and elimination rounds and ultimately defeating rivals Shazam 3-0 in the best-of-five finals.
Despite winning first at Shanghai, Secret have looked shaky since, especially following the surprise swapping of w33 and MiSeRy for Evil Geniuses' Artour 'Arteezy' Babaev and Saahil 'UNiVeRsE' Arora. A combination of middling and even dead-last results suggests the new roster has been struggling to gel. That said, there's enough individual skill amongst the team to make a comeback possible – likely, even.
The additional of hotshot mid-turned-offlaner Victor 'GeneRaL' Nigrini seems to have revitalised Na'Vi, who spent the past year struggling to qualify for LANs, let alone do well in them - as they did at Dota Pit, Starladder i-League and Dreamleague Season 5. Despite past hardships, Na'Vi remain big fan favourites - expect deafening cheers, especially if they put up another competitive showing.
Group C: Team Liquid, Alliance, Vici Gaming Reborn, Fnatic
Team Liquid impressively came from the Shanghai qualifiers to take second place at that Major's main event. As one of the few teams to avoid any recent roster changes, this European squad will have both cohesion and momentum on their side, having maintained a string of competitive tournament and qualifier results including first place at Epicenter, the biggest non-Valve event so far this year.
Alliance aren't on quite the same hot streak; they've only competed in two LANs since Shanghai, coming 5th/6th in both. With Batrider and Puck both firmly in the metagame, though, some dazzling midlane plays from Gustav 's4' Magnusson could still be on the cards.
Following the Chinese Dota scene's collective bruising at Shanghai, Vici Gaming Reborn were the first to rebuild, taking the top spot at Starladder i-League in April. A mix of veterans (Xu 'fy' Linsen and Leong 'DDC' Fat-meng) and newer talent (Wang 'Nono' Xin), VGR tend to beat their opponents through clever counter-picks rather than heavy farming.
Fnatic swept almost every SEA regional qualifier in 2016 but decent showings at Shanghai and ESL allowed them to save the trouble for Manila with a direct invite. It's yet to be be seen how the permanent replacement of support player Wai Pern 'Net' Lim with former substitute Adam '343' bin Akhtar Hussein will affect Fnatic's synergy, but judging by the latter's previous, high-impact performances as a stand-in, fans might not be too worried.
Group D: Evil Geniuses, Mineski, MVP Phoenix, LGD Gaming
Reigning The International champions Evil Geniuses looked to familiar faces to replace their two poached cores. Kurtis 'Aui_2000' Ling returns, after having been kicked post-TI5, while ex-coach Sam 'BuLba' Sosale takes over the offlane. While thus far lacking a Major win, EG's implacable consistency at finding podium placements seems to have survived the shuffle – Epicenter notwithstanding – and so they remain one to watch out for.
Happily for locals, a Filipino team's attendance at the Major was guaranteed when Mineski met TnC Gaming in the Southeast Asia qualifier finals. TnC had already beaten them in the upper bracket finals, but then appeared to falter as Mineski struck back to take a bloody 3-0 victory, including a particularly decisive 20-minute game three.
Korean team MVP earned their invite after a dominant victory at Croatia's Dota Pit LAN in March, not to mention an unexpected fourth place at Shanghai. This is a team that can handily beat any other - provided that their aggressive, bloodthirsty playstyle isn't properly countered.
The final and possibly most controversial direct invite, LGD Gaming, had only one third-place finish (at Starladder i-League) to their name at the time, despite being packed with such big names as Lu 'Maybe' Yao, Sun 'Agressif' Zheng and Zhang 'xiao8' Ning. That said, their victory in the ESL One Frankfurt Chinese qualifiers showed their potential – Manila will bethe time to fully realise it.
So how might one watch such a digital sports event?
As ever, you can watch live on Twitch, or in the game client. The group stages run from 3-4 June with a 10am start both days (that's 3am BST and 10pm the previous day for EST), while the main event runs from 7-12 June again with the 10am starts.
If you want to go in person, there are still a few midweek tickets available. Redditor iamesskei has produced a nifty guide for visiting Manila, including where to eat, where to stay, water and traffic wisdom and a sensible reminder for how not to have all your Secret Shop merch money pickpocketed.
Will there be an in-game Compendium I can use to make predictions and unlock dresses?
Yes - although it's actually been folded into The International Battle Pass.
Will it be hosted by James '2GD' Harding?