Dragon Ball creator's manga Sand Land is getting a video game adaptation
Tank combat and mutants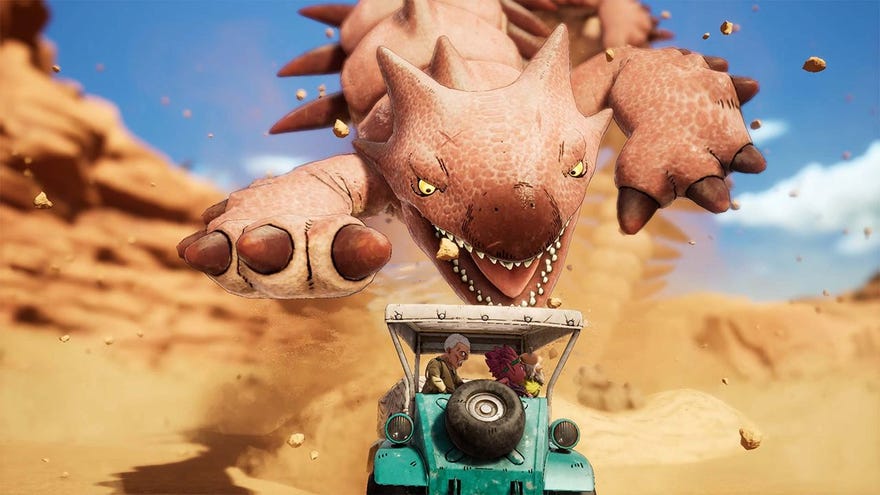 Akira Toriyama is best known for creating Dragon Ball, which I haven't read or watched, and for contributing character designs to Chrono Trigger and the Dragon Quest series, which I haven't played. He's now working with Bandai Namco on an adaptation of Sand Land however, one of his lesser-known mangas, and it's got tanks, mutants, and vast open deserts.
Here's a trailer, shown during this evening's Summer Games Fest:
Players control a character called Beelzebub in "a desert world where both humans and demons suffer from an extreme water shortage." It features third-person character combat as well as vehicular combat. I like the mixture in the trailer of vast open spaces, tank combat, and what looks like sneaking into settlements via high-wire climbing. If these moments are dynamic - as in, you encounter and engage with those tank convoys when you choose to - then that seems like it would be fun.
If Sand Land looks familiar, that'll be because Bandai Namco announced the "Sand Land project" in December last year. It's a "project" because it's not just a game, but also includes an animation as a co-production between Bandai Namco Filmworks Inc. and Shueisha Inc. They released a trailer for that animation alongside that announcement, where the art looks, sadly, better than in the game.
There's no release date yet, but Sand Land will arrive via Steam. It's being developed by ILCA, a Japanese studio that worked on Code Vein and provided development support to a lot of other projects.
---
NotE3 and Summer Game Fest 2023 is over for another year. You can find out all the latest news by visiting our E3 2023 hub, or you can catch up with our round-up posts of everything that was announced at Summer Game Fest, the Xbox Games Showcase, the PC Gaming Show, Day Of The Devs, and our top highlights from the Wholesome Direct.