Dragon's Prophet Has The Bounciest Dragons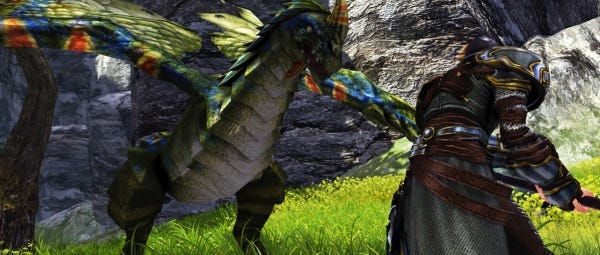 I was going to mock the new Dragon's Prophet trailer for featuring people sitting on what appeared to be Bucking Dragoncos. But then I realised how much more brilliant mechanical dragons would be than stupid boring mechanical bulls, and herald Runewater Entertainment as GENIUSES.
Dragon's Prophet is a free-to-play MMO. Or as I like to call them, "every other game announced". However, this is one from they who made Runes Of Magic, which people seemed to like. The game's website announces it,
"features all virtues of a classic MMORPG and "evolutionizes" them."
Hmmm. Anyway, look, wobbly dragons!
Last time we heard about this it was being published by Sony. Now it seems to be Deep Silver. Although this may be a US/EU thing - I'm trying to find out. Sign-ups for the beta are open now.
Edit: So Sony are handling it in the US, Deep Silver and Infernum Productions in Europe, and Runewaker themselves in Taiwan. I do hope such a complicated publishing structure won't lead to confusion on launch.