Drake, Rattle And Roll: Deadfall Adventures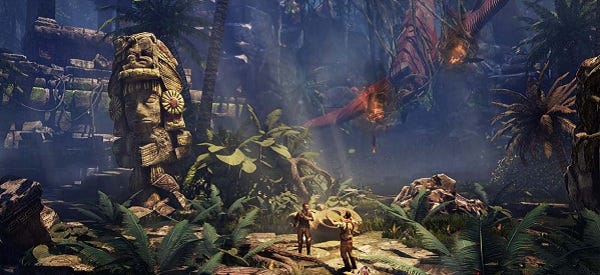 If Uncharted were a first-person shooter, with all of its traps, tombs and mythical Nazi magnets intact, it would probably look quite a lot like Deadfall Adventures. The announcement trailer for the game, which was previously announced under a different name, doesn't show a great deal of action, opting instead for a predictable but slightly confused voiceover, but when the shooting hits the fan in the last few seconds, the development team's history is more apparent than the pseudo-history they are exploring. Fiery demons are the order of the day, and lots of them too. The Farm 51 is a team founded by former Painkiller developers, who returned to their original hell recently and, before that, planted some more hell in the hell of World War I with NecroVisioN. The trailer is entombed below.
It's due July 30th and if there's enough adventuring and exploration in between the shooting, I may find the proposition quite tempting. When the original announcement was made, the working title was Project Adventurer. I guess those words ended up back in the Big Hat O' Assorted Game Titles and another two were selected at random.