Dual Universe Drops First Footage, Alpha Due Early 2017
To infinite?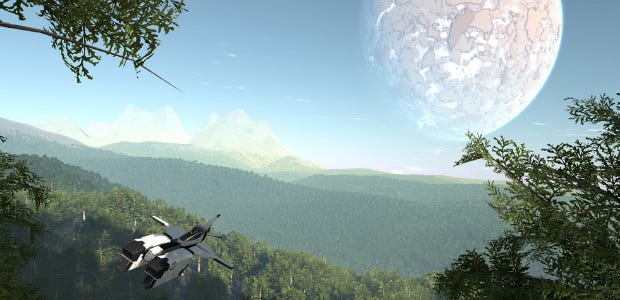 Did you spot Steven chatting about the incredibly ambitious-sounding sandbox sci-fi MMORPG Dual Universe [official site] last month? In what sort-of sounds like an MMO slant on No Man's Sky, developers Novaquark spoke of "cloud-based scalability", "advances to voxel technologies" and a "seamless sci-fi universe made of millions of planets", and citing Eve Online and Space Engineers as inspiration made it all sound a bit too good to be true.
One can hope, though, and while it still sounds a bit far-fetched, it's now got some in-game footage that looks pretty neat. Look, see:
Taken from its pre-alpha build, all that whizzing around trees and valleys, the seamless swooping down from outer space onto planets' surfaces, and the quick glance at developing civilisations at the trailer's end there undoubtedly look pretty impressive, but I'm really taken by the in-game crafting and spaceship building system that features at the video's beginning. It all appears to be done in real-time in the footage, but I'm intrigued to learn more about how it develops and how you develop it as you go.
Speaking on stage at the PC Gaming Show at E3 this week, Novaquark front man Jean-Christophe Baillie spoke of how players will get the chance to build ships, space stations, houses, and political and economic infrastructures in Dual Universe. "We don't create the content - players do," he said, before noting waging war and changing the balance of power was also well within the player's purview.
Novaquark - who're a team comprised of ex-Ubisoft, Apple and Sony folks - plan to launch a closed alpha in early 2017. "We are confident that our first look trailer will please the tens of thousands of fans that have been following us so far though our social channels, eager to hear and see more about Dual Universe," added Baillie.
Don't miss the rest of our E3 2016 news this week.