Duelling Wizards: MoaCube Reveals ArcMagi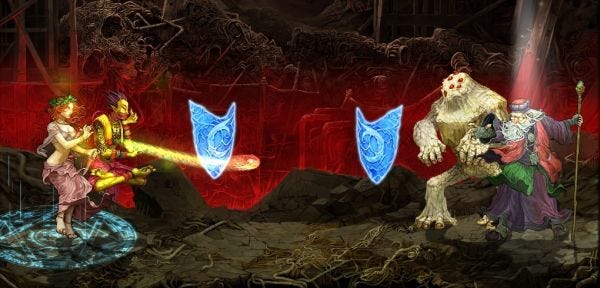 A wizard battle is all too often represented as a simple affair. And the wizard community is getting increasingly upset at their representation in games. "It's not just about hitting 1 and 2!" says a statement from Wizard Corp. So they should be very pleased to find out about ArcMagi - the sequel to indie dev MoaCube's original wizardry battling, Magi. There's a video below to prove it.
MoaCube is a one-man studio, formed by Tom Grochowiak, who was previously part of Codeminion (StoneLoops!, Saqqarah). After the company "re-formed", Grochowiak went in his own direction.
MoaCube's original Magi is currently available in a fund-raising sale, in order to gather the necessary cash to create the sequel/remake that is ArcMagi. As well as a second game, Cinders, that's a bit further off.
ArcMagi at first glance looks like a Mortal Kombat-esque game, but that first glance is about as wrong as a glance can be. The classic layout is there, but this is a strategy game in which you must carefully select spells and abilities to compete against another doing exactly the same.
If you want to get a feel for the way the game plays, you can check out the demo of the original game, or buy it for $5. (Or you can choose to buy it for $25 or $50, and gain various extras.)
Meanwhile Cinders, a visual novel game that puts the "novelty" into "novel" (wait, no) by not being Manga, is aiming for a Summer release. It seems intriguing to me for its promise of choices that will make players "question the somehow naive and banal morals of the classic story." We should hopefully have more news about that soon.