Dungeon Runners To End, In Style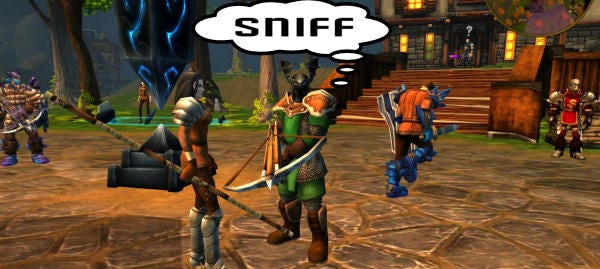 Here's a bit of sad news. The free MMO Dungeon Runners is to close down this New Year. Here's a bit of personal guilty news. I haven't played it for so long. Which is a shame, because amongst the seventy three trillion free MMOs currently available online, Dungeons Runners was the one taking the piss. The producer and lead programmer of the NC Soft project, Stephen Nichols, wrote a post on the game's site explaining that due to not making enough money the game will cease to be. But it's going to go out having fun.
Nichols explains ("explains" is a strong word),
"Dungeon Runners just isn't cutting the mustard. If she were a ship, she'd be taking on water. Yeah, she's been taking on water for a long time now. Are my cryptic references too hard to decipher? The game just isn't profitable. And, the first rule of business is to be profitable! Man, I must have missed that day in business school... but I digress."
Ideas to save the game are considered too costly, and the team lost a couple of key members recently (team of five running an MMO becomes team of three running an MMO), meaning they've decided the best solution is to have it put down.
Which is a genuine shame, as Dungeon Runners was genuinely funny. Primarily spoofing WoW, it takes shots at the most common MMO clichés while being genuinely fun to play. Drop names like "Sphincter's People's Pick of Unending Taint" make me happy. But it seems that not enough people were willing to pay for the premium membership that scored you the better loot and no ads. Which is surprisingly, at only $5 a month. In fact, when reviewing it for EG I paid the premium because I was enjoying it so much. Check out that review for a long list of reasons why the game was special.
Which leaves me feeling super-guilty for having pretty much forgotten to keep shouting about it. I'm sorry, Dungeon Runners.
However, those who were wise enough to pay their monthly sub are being given a splendid farewell. Those who already had them in place (there's no sneaky getting one now) will receive the following:
"You'll be getting a 30 day game time serial code and digital copies of City of Heroes Architect Edition and Guild Wars Prophecies. FREE games FTW! I know, it's not Dungeon Runners... but it's still frigging nice! Of course, any of you guys that need refunds for multiple-month membership purchases will be taken care of. And, as always, our helpful support staff will be available to help you with any issues you have."
And the game itself will be enjoying its last few months.
"While we may be going out, we're going out in style, with a few changes to the game for the coming "End Time". Mythic loot will drop much more frequently. We're significantly reducing the cost of expensive King's Coin vendors. We're also quintupling the rate of XP gain to help you finish the game before year's end!"
And here's the best bit. And here's why Dungeon Runners was bloody brilliant. How they're going to end it all:
"Finally, we're adding a huge nuke to Townston that will blow up on New Year's and take the game down with it. There's more, but what fun is there in spilling all the beans? Oh, its gonna be a fun time till the end of the year! Loot finding, leveling madness. I may finally make it to level 100 myself now..."
Goodbye Dungeon Runners. You were ace. Enjoy the last three months. (Via Eurogamer)