Scorched Earth - Earth: Year 2066 Booted From Steam
No false advertising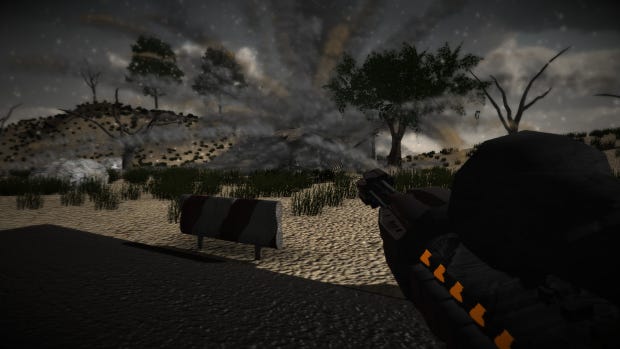 Apparently Earth: Year 2066 is not very good. The open-world survival game recently made a splash on Steam Early Access, but less like, say, an Olympic diver and more like a ball of thoroughly be-snotted tissues. By most accounts it was barely functional, with just a small location and some robots and little else. That, however, isn't enough to get a game yanked from Early Access. It is for early games, after all. No, Valve finally saw fit to enact a scorched earth policy on Earth: Year 2066 when it caught a whiff of some seriously fishy false advertising.
Valve explained why it made Earth go bye-bye, adding that buyers will be able to get a refund until May 19th:
"On Steam, developers make their own decisions about promotion, features, pricing and publication. However, Steam does require honesty from developers in the marketing of their games."

"We have removed Earth: Year 2066 from Early Access on Steam. Customers who purchased the game will be able to get a refund on the store page until Monday May 19th."
Apparently developer Killing Day Studio/Muxwell also took to deleting complaints from the game's Steam forum, eventually clearing out the whole thing and renaming it "the troll tavern."
In the past, Valve has at least temporarily given the boot to games like The War Z, Ashes Cricket, and Dark Matter for similar reasons.
As Valve continues to push Steam into more open waters, I do hope it'll at least continue to curate the store on this level. I've been saddened to see some seriously questionable offerings run the Greenlight gauntlet with little-to-no trouble, but there still need to be ground rules, and truth in advertising should be at the top of that list.
Beyond that, well, Valve is technically free to do whatever it wants. Fingers crossed that Steam isn't a total disaster area afterward.