EGX 2018 hits Birmingham next week - try out these PC gems at the show
Planes, Trains and... Geese?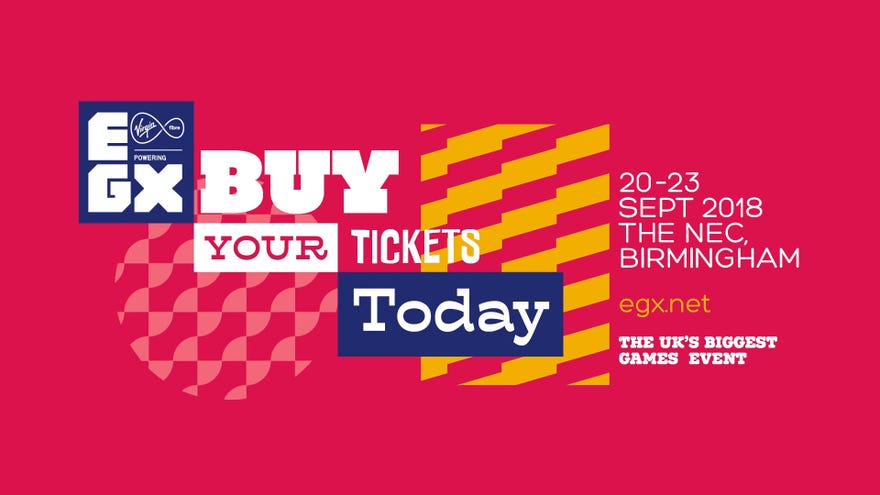 There's just one week left until a borderline-biblical plague of developers descend upon Birmingham to showcase their up-and-coming games to all. This great gathering shall be known as EGX 2018 and starts on September 20th, running until the 23rd.
There's going to be hundreds of games on show there across all platforms, featuring developers of all shapes and sizes - both physically and business-wise. While I'll be sadly missing out on the fun (someone's got to man the news desk), here's a few choice PC games that'll be at the show, and everyone should be checking out.
Ace Combat 7: Skies Unknown - Bandai Namco


A game about jetfighter combat for people too lazy to learn a proper flight sim. That may sound snarky, but I adore these games, and Ace Combat 7 looks to be doubling down on the sci-fi aspects of the series that I love so much. Giant aerial battleships, swarms of menacing drones and high-tech weapon pods (including laser and plasma weaponry) to bolt onto your modern-day aircraft. The full game is due on February 1st, but you'll have a chance to play it early at EGX.
Hypnospace Outlaw - Tendershoot


Featuring narrative writing by RPS contributor Xalavier Nelson Jr, this one is a trip for all you 90s kids. In a parallel world where you can surf the web in your dreams, you get to play moderator on a chunky proto-internet, poking around strange websites, unearthing misdeeds and maybe(?) enforcing the law of the virtual land. Part nostalgia trip, part fever dream, part brilliant writing, at least from what I've played of an early beta so far.
Disco Elysium - ZA/UM


If you have any interest in RPGs whatsoever, you owe it to yourself to play this delirious alternate earth 70s cop-story. I've had an early demo build of it since Rezzed earlier this year and regularly poke around it to see if I can't find another branch of beautifully written dialogue, another clue or another bizarre interaction with your own living, talking skill-set. Months later, and I'm still being surprised. You will be too.
What The Golf? - Triband


Similar to how Pool Panic took the concept of knocking around a white ball with a long stick and created worlds out of it, What The Golf? looks like it's doing some very silly things with the very boring concept of Golfing. Every hole looks to be a bizarre reimagining of the sport. There's even a SUPERHOT tribute in there where time only moves when you golf.
Baba Is You - Hempuli Oy


READER is YOU. READER is MOVE. PROTOTYPE is PLAY. LOGIC is FLEXIBLE. PUZZLES are FAB. Seriously, go play the proof-of-concept version here on Itch. It's one of the cleverest little puzzle games I've ever played, and the commercial version looks so much bigger, better and weirder. A simple tile-based, block-pushing puzzler, but half the pieces are the internal logic of the game. Turn rocks into keys. Turn walls into nothing. Turn all into dust - you may want to undo that one.
Phoenix Point - Snapshot Games


While Julian Gollop (of the original 90s X-Com) and his crew may be cribbing from Firaxis's modern reboot for this post-apocalyptic strategy and tactics romp, there's an older soul just under the surface. Expect action points, highly destructible terrain, looting in the field and a very complex manual aiming system paired with locational damage. One of the strategy games I'm most excited for in 2019.
Metro Exodus - 4A Games


I've heard some compelling arguments that Metro: Last Light is Half-Life 2's successor, mirroring much of its feel while building on the lessons Valve taught us about the genre. Exodus looks to take everything I loved about the previous game and transplant it into a stunningly good-looking chain of open-world environments. Hunt monsters and protect your people as you traverse the post-apocalyptic Russian countryside by train.
We Were Here Together - Total Mayhem Games


Bring a buddy for this one. Announced just yesterday, this is the third in a series of cooperative puzzlers, a bit like a room escape by way of Knightmare. The players are separated physically, but in contact via a crackling walkie talkie, and need to work in tandem to solve puzzles and open up new wings of a lost underground castle. It's designed for online co-op, but Mayhem will be demoing some of its puzzles at the show.
Override: Mech City Brawl - The Balance Inc


Seemingly inspired by PS2 cult favourite War Of The Monsters, Override does what it says on the tin. Four players bound around in giant robots of varying animeosity, knocking seven bells out of each other and stomping the city flat in the process. There's a bit of Power Stone to it, a bit of King Of The Monsters, and a dash of Megas XLR in its more self-aware robot designs. I can see this one being a multiplayer favourite at the show.
Untitled Goose Game - House House


I can see this one drawing some crowds at EGX. Players control a horrible goose, doing horrible goose things. You honk to startle people, grab their stuff, drop that stuff in ponds and generally cause a ruckus. That alone would be worth checking out, but apparently this goose has a mission, and you've got a checklist of goals to achieve before you'll tire of raising hell. You'll be able to play this one at the show, and should, because there's a little horrible goose in all of us. Honk.
And those are just the ones that I'd be making a beeline for, if I could be there. There's still announcements to be made right up until the 11th hour, but take a peek at the full show-floor list and tell us what your first picks are going to be.