Endless Space 2 Announced, First Trailer Released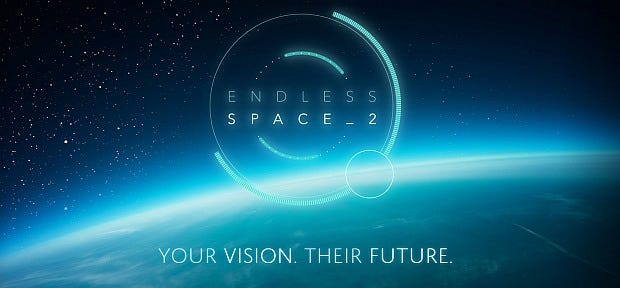 Endless Space was a fine 4X strategy game with interesting, distinct races and a best-in-class interface. Then Amplitude Studios' follow-up was Endless Legend, a fantasy 4X game set within the same universe which was best-in-class in general. In fact, we named it the best game of 2014.
So pardon my excitement for the news that Amplitude are now making Endless Space 2 [official site] and have released the first CG trailer.
A little cryptic, no? If you can't watch it right now: a starship travels around a planet and a voiceover says, "What if I could begin again? I had reached perfect harmony, before they came and destroyed everything. But sometimes you just need a single drop to change everything." That's it.
More interesting is that the ship that flies by is the one that you could repair in Engless Legend and use to leave the planet. This was added as one of the victory conditions back in March; look at the ship in the header artwork in that post and compare it to the one in the trailer. The victory condition was achievable by any faction, though the logo on the side of the ship in the trailer belongs to Endless Space's Hissho faction.
Arguably this means that Endless Space 2 could equally be considered a sequel to Endless Legend, and Amplitude are no strangers to this kind of cross-game story work. Dungeon of the Endless, another of their games, took place on a spaceship from Endless Space that had crash landed onto the planet from Endless Legend. This spaceship? I'm not informed enough to know.
As per Amplitude's other game's, they're making use of their Games2Gether system through which they encourage participation among their community in the service of both designing and promoting the game. Right now there's very little other information, but we'll see more next week at Gamescom.