Spider-Man Swingman Releases Energy Hook
Cool tools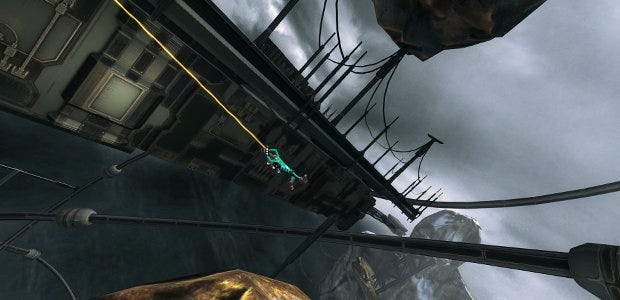 "From the inventor of the acclaimed web-swinging movement in 'Spider-Man 2'" is how Happion Labs advertise Energy Hook [official site], which seem a pretty clear statement of intent. Energy Hook wants to be a game of swinging around big open levels, running along walls, and generally getting up to nifty acrobatics. That's the pitch. You can see for yourself how it's turned out as, following a weird Kickstarter then ten months on Steam Early Access, Energy Hook properly launched today.
Energy Hook's an extreme futuresport, zipping through futurecities and strange landscapes on a grappling hook, racing through time trials, pulling off tricks, jetpacking, building combos and... larking about. You lark about. Larking about with grappling hooks is nice, isn't it? Goodness knows you can't get me to shut up about it.
I do like that Energy Hook has different artists for different areas, showing some very different styles.
Spiderpal Jamie Fristrom took the idea of Energy Hook to Kickstarter in 2013, cheekily asking for an unmissable $1 because he was adamant he'd finished it no matter how little he raised. With $41,535 in the bag (minus fees and rewards and so on, obvs), he launched it onto Steam Early Access last year. Now it's properly done and launched for Windows, Mac, and Linux.
An 18% launch discount brings Energy Hook to £11.14/14,75€/$14.75 on Steam. Here's the launch trailer: