Fear Not: Energy Hook 'PS4/Vita First,' But Only On Console
PC version not in jeopardy after all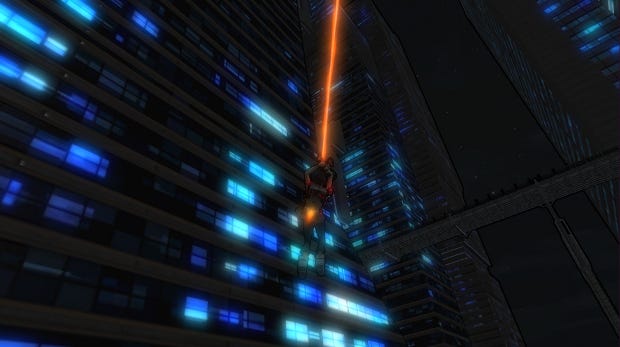 A series of troubling headlines emerged recently, claiming that airborne acrobatic fanatic (and distant Spider-Man 2 relative) Energy Hook would be coming to PlayStation first - in other words, before PC. If true, this would've been especially upsetting given that the game's $41,000 Kickstarter tethered its neon beam rope to PC, Mac, and Linux. "You funded this for your platform of choice," developer Happion would've been saying, "but Sony kicked us a few extra bucks so yeaaaaaaaaaah." That, however, is absolutely not the case. Confusing wording nearly left us stranded high and dry, but Happion's Jamie Fristrom was all too happy to swing in and save the day.
After some initial reports got backers hot under the collar, RPS touched bases with Fristrom to clarify the situation. He explained:
"I meant 'first of the consoles - I realize now that was really murky. [Day-one launch] will be concurrent with PC. (And PC is really first because you can get the current build RIGHT NOW)."
Phew.
That's all taken care of then. I'm glad everything worked out for the better, too, because Energy Hook looks quite promising. Spider-Man 2 gripped many of my young hours in its radioactive mandibles, and nearly every aspect of it was middling to terrible except the swinging. So a game all about said swinging (plus new stuff)? Sign me up.
The finished version of Energy Hook will be out sometime in 2014 on PC, Mac, Linux, and I guess some consolebox or another, you know, if you swing that way.