Live the gritty cyber espionage life in free parody ENHANCE.COMPUTER
Next up: The Minority Report computer UI.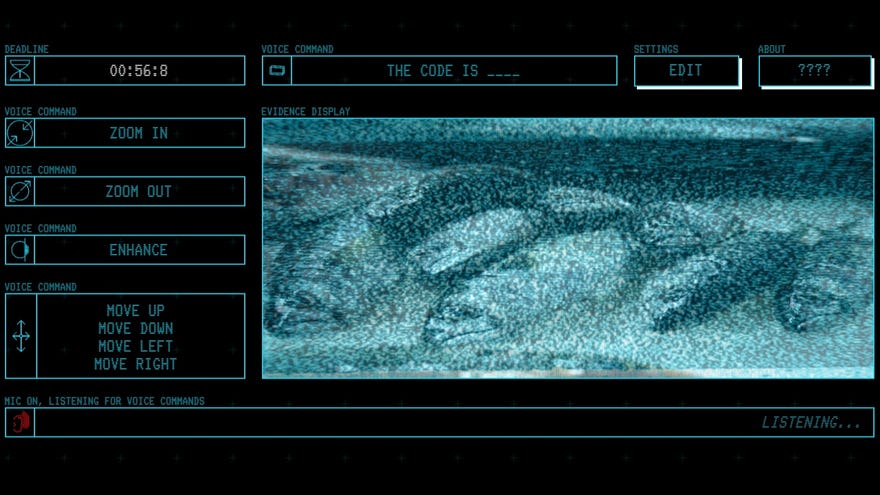 It's a scene we've all seen a hundred times. The tech-savvy cop hunches over an all-too-bright monitor in a darkened room. There's a reflection in a mirror in a blurry photo, and it's the last clue to cracking this case. Only gritty and realistic use of modern technology can get to the bottom of this crime.
"Zoom. Move right. Enhance!". And the image comes into perfect focus, revealing the final four digits on someone's bank statement in another room entirely. Complete bobbins every time, but it looks fun. Enter ENHANCE.COMPUTER from Nicole He. You'll need a microphone for this one, because for MAX IMMERSION, you're going to be doing this hands-off. Give it a spin, it's free.
ENHANCE.COMPUTER is charming, goofy stuff, and surprisingly fun to play even if the time limit is a little tighter than I'd like. The options even let you tune it to various accents, if you find that the machine can't understand a word you're saying. There's not really much more to say about the game itself, so I'll just leave you with a supercut here of years upon years of the zoom-and-enhance trope, pilfered shamelessly from Nicole He's twitter feed.
Suddenly I want to see every incomprehensible science-warping trope in TV and film expanded into a full game. While we've seen this done for just about everything medical already in the excellent Wii and DS Trauma Center series, there's surely a game or two in zooming through abstract VR environments, navigating an inscrutable interface made up of abstract, unlabelled geometry. Perhaps a game about data recovery where you've got mere minutes to piece together fragments of audio and video from an impossibly damaged hard drive to SAVE THE PRESIDENT?
There's a rich, deep vein of TV and film writers misunderstanding anything more complex than a typewriter. We just need a few more people mining it.
ENHANCE.COMPUTER is free, playable in your browser, and available here. You'll need a microphone, and its creator recommends playing in Chrome.