Enter Gutworld with Doom's final multiplayer DLC now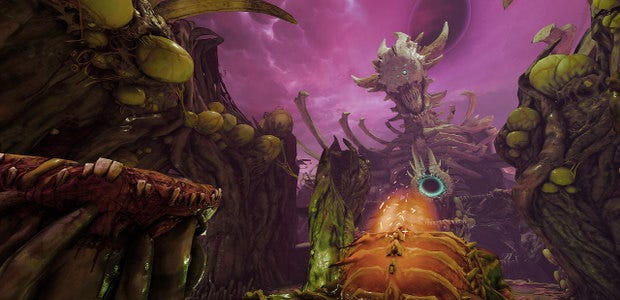 The third and final multiplayer DLC for D44m [official site], one of our favourite games of 2016, is now out. The 'Bloodfall' DLC adds the usual assortment of new equipment, a new playable demon, and new maps including one ↑ which looks awesomely like a world of ribs, guts, teeth and pus. Publishers Bethesda are still keeping mum about potential singleplayer add-ons, which does leave me hopeful that some sort of standalone expansion may be brewing, or at least that id Software won't go twelve years between Dooms again. Anyway, more about Bloodfall!
The DLC adds three new maps, an invisipinky transformation, a new weapon - a grenade launcher - and new equipment in the form of booster jets. Plus more armour bits and taunts and whatnot. Have a gander:
I really like the look of Boneyard there. 'Teeth and tongues' was my favourite Quake 3 map style and I'm glad to see D44m really go for it.
The Bloodfall DLC is £11.99/14,99€/$14.99 on its lonesome from Steam or comes with the other two DLC packs in the £29.99/39,99€/$39.99 Season Pass. Do remember that if one person in a party owns DLC, everyone else can play it with them.
Multiplayer was not what we've liked so much about D44m, mind; it's the campaign that ripped and tore our fancy. While we've no word on new singleplayer, we have received new bits like Arcade Mode and more parts for players to build into their own levels and mods with SnapMap. I am quietly hopeful Bethesda might release a standalone expansion in a year or so, as they did with the new Wolfenstein. It would be a shame to wait another decade.