Euro Truck Simulator 2 Ira En France Avec DLC Nouveau
Keep on trucking, ETS2!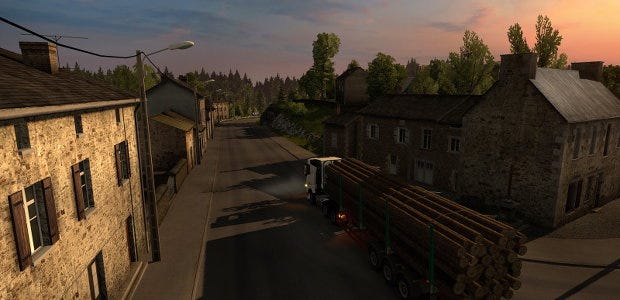 SCS Software sont... oh bugger it, I'll spare you my broken French. Let's start over.
SCS Software are busy trucking around America now, but they still have a folks who stayed home to keep an eye on Europe. The Euro Truck Simulator 2 [official site] team have announced they're revamping and expanding France in a "major DLC expansion", which sounds lovely. America's wide skies may be a place of dreams for me, but I wouldn't say no to pootling around Normandy either.
SCS explained in a blog post today:
"We are expanding the little bit of France we have in the game now to cover the whole country. This also includes a lot of touches to the existing areas (total overhaul of Paris region for example). The changed parts of the world will of course still be accessible in the base game, even if they are upgraded visually."
They're now big enough to have separate teams working on American Truck Simulator's new DLC states as well as ETS2's France. It sounds like they have more on the go too, quiet for now.
No word yet on when the DLC will launch. Pay SCS a visit to see a few more screenshots, though do be aware some flora is placeholder art.