Europa Universalis IV and Hearts of Iron IV DLC looks to the East
Go east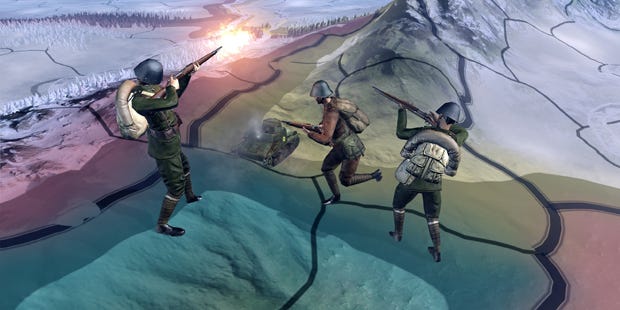 Adam is away at E3 and thus someone who isn't Adam needs to develop emotions and/or words regarding the new DLC available for two of Paradox's grand strategy games, Europa Universalis IV [official site] and Hearts of Iron IV [official site]. That person is me so I was hoping that somehow it was an under-the-sea expansion of some kind. The fact that the DLCs are called Third Rome and Death or Dishonor respectively implies not. I'll wear my snorkel just in case, though.
"Third Rome, a new immersion pack for Europa Universalis IV, adds new gameplay features for the Russian empire," say Paradox. "Death or Dishonor, a new country pack for Hearts of Iron IV, brings new events and national focuses to the nations bordering the Soviet Union during World War II – Romania, Czechoslovakia, Hungary, and Yugoslavia."
For Third Rome we have this:
Aaaaaaaand for Death or Dishonor:
The Third Rome stuff sounds interesting to me for the religious options being added in relation to the Orthodox Church. You can commission icons and revere saints which affects the power of your empire via the reach of the church. I don't think that's a huge departure in terms of the way in which religion is wielded in grand strategy but I just happen to like religious iconography of that sort so I've spent a nice few minutes revisiting some artwork sites. There are also new government ranks and Tsars have the right to claim entire states. Russian nations can also slowly colonise uninhabited border regions without fear of native uprisings, kind of like how the wild strawberries send out runners to start encroaching on the rest of the garden if I just let them be.
Death or Dishonor is just about being between an ideological rock and a hard place:
Features include:

Four New Focus Trees: Experience the war from the difficult perspectives of Hungary, Romania, Czechoslovakia, and Yugoslavia.
Equipment Conversion: Update your arsenal by converting older units - or make use of captured enemy vehicles and gear.
New Diplomatic and Puppet Interactions: License military technology to bring other nations' weapons to the field or sell your advances to the highest bidder.
Each DLC is $9.99/£7.99 but there's a bundle deal where you can get the pair together for $17.98/£14.38. PLEASE MAKE ADAM COME BACK SOON.