Eve Online Economic Report (#1)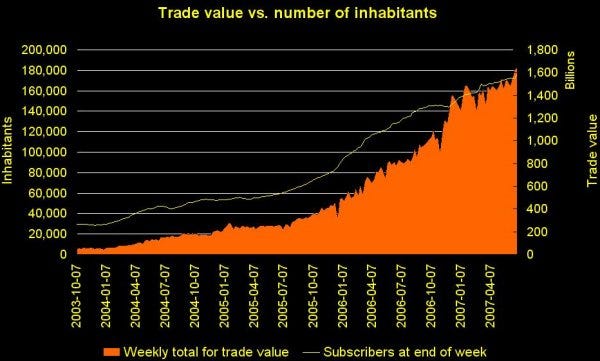 I should have mentioned this yesterday, but CCP's full time economist, Dr. Eyjo "DrEyoG" Gudmundsson, has published Eve Online's first financial report. In it he examines the mineral trade, which is the backbone of all Eve's production and manufacturing stuff. The Doc explains:
This first Econ Dev Blog (EDB) has given a descriptive overview of the major trends for the market of minerals in EVE. Overall trade quantity and volume has increased dramatically over the last 3 years and the price of minerals has fallen considerably due to increased mining efficiency through better tactics and improved technology. The price formation has also improved showing that price difference between regions is becoming minimal in Empire space and reflects only the time value of moving minerals in low sec. However, smaller population and the risk of piracy in zero-zero space results in less efficient markets with low volumes and great fluctuations in prices given an arbitrage trade opportunity for the brave entrepreneur.
Needless to say, money means graphs:
We here at RPS are enormous fans of graphs, and the more they are seen in relation to games, the better. I should stress at this point that Eve itself has built-in graphs (take that, World of Warcraft), although none of them relate to blowing people up, which is all I do in the game these days. Hopefully a future patch will correlate time over death-mongering, as well as the price of techno-whistles and space-bells.
Meanwhile the economic reports will continue to stress Eve's complexity as a business-focused game. It's good for learning how to deal with business problems in the real world, apparently.