EVE Online Dev CCP Suffers Big Layoffs... Again
Two months: 100 layoffs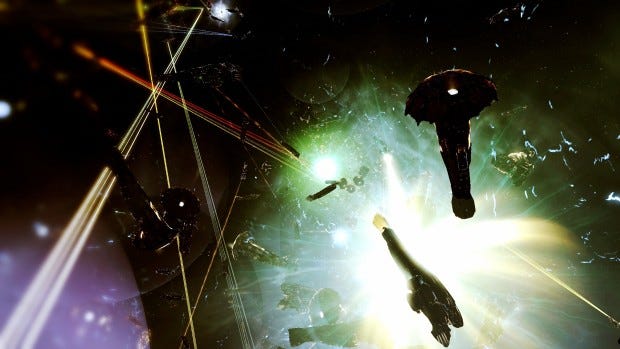 EVE Online might be producing some of the best stories in all of gaming, but times have been sort of rough at developer CCP lately, and today might just come as the fiercest blow yet. In the wake of previous layoffs due to the cancellation of vampire MMO World of Darkness, the King of the Sandbox has pink slipped another 49 employees - this time from its main Iceland studio. Anybody looking for a new lead entire universe breath-life-into-er?
CCP issued the following statement on the matter:
"As part of our strategy to focus on the EVE Universe, today CCP conducted a restructuring that resulted in the layoff of 49 people in our publishing organization. Though it is hard to say goodbye to our friends and family, this action concludes the process we started several months ago. CCP has provided severance packages and job placement assistance for those affected."

"Development teams and plans for EVE Online, EVE: Valkyrie, DUST 514, and 'Project Legion' are not impacted by the restructuring."
However, Polygon's sources claimed that this is actually a major blow to CCP's Reykjavik office, and employees at other locations are affected too. Investor pressure is apparently to blame.
So that's bad. CCP is an impressively large company - at least, as far as technically independent developers go - but it's bled more than 100 employees in only a couple months. That's a big blow by almost any standard.
Moreover, a report recently emerged at The Guardian that didn't exactly paint World of Darkness' development process in a positive light (or dark I guess, since vampires don't do the whole light thing). The report claims that the game was directionless, de-prioritized, and stymied by a general state of disarray in CCP's upper management.
Messy. Maybe lightening the load a bit might help CCP clean up its act in the long run, but layoffs are never good. Best of luck to all affected. If anyone would like to get in touch about what exactly is going on behind-the-scenes at CCP, you can reach me through the byline at the top of this article (or the Nathan Signal, but nobody ever uses the Nathan Signal). Anonymity's guaranteed unless you'd prefer otherwise.