"All is Gauntlet, Nothing is Gauntlet..."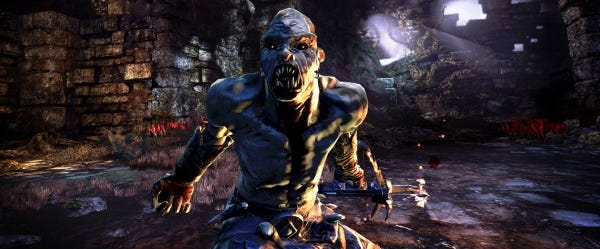 Bethesda Softworks send word that newly-signed studio, inXile Entertainment (headed up by Brian Fargo, formerly of Interplay), will be making a videogame called Hunted: The Demon's Forge. It's a game of the "third-person co-op action" genre. What kind of genre is that? Well, I'm glad I asked myself that, because Bethsoft say this: "Taking control of either E'lara, a ranged weapon expert, or Caddoc, a master swordsman, you must use a variety of weapons, powerful spells, and cover tactics to battle your way through menacing dungeons, overgrown ruins, and downtrodden towns. Discover secrets and complete co-op-based puzzles whilst exploring the sinister world to discover answers to the game's deep, dark mysteries."
So it's basically an Unreal 3-powered hack 'n' slash dungeon-crawler with monsters and stuff. Apparently the game allows players to pull off "gruesome co-op kill moves," which sounds like a thing that would happen in a videogame. More news on this soon, probably! Wow, that was quick, EG have a preview up: here.