Hack the planet in Exapunks from Opus Magnum & Shenzhen I/O studio Zachtronics
You're in the butter zone now, baby.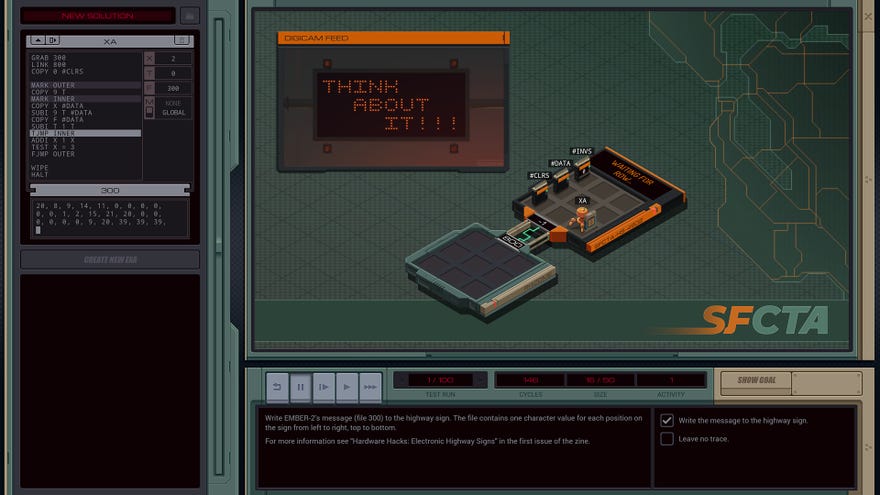 Exapunks is the next game from prolific puzzle-meister Zach Barth and his little studio Zachtronics, creators of the likes of Opus Magnum, Infinifactory and Spacechem. Set in an alternate 1997, Exapunks is about cyberpunk hacking, programming viruses called EXAs (EXecution Agents) to carry out your will, whether that's tweaking a game on an alt-history Game Boy or robbing a bank. It's hitting early access on August 21st.
While some Zachtronics games are entirely self-contained exercises in problem-solving, Exapunks looks to follow in the footsteps of TIS-100 and Shenzhen I/O in requiring you to learn its own scripting language through authentic-looking reference pages, and pick up tips from the amazingly titled TRASH WORLD NEWS, an in-universe underground hacking publication.
While primarily digital, there will be a limited-run physical edition of the game containing printed versions of the TRASH WORLD NEWS issues required (digital buyers will get PDFs they can print) and some interesting bonus items. The extras include a pair of old-school red/blue 3D glasses to use with your retro-future 3D Game Boy-alike, and a sealed mystery envelope that the game will tell you to open at some point. You can find more info on its official site here.
As with the past few Zachtronics games, Exapunks will be launching near-complete, with the few months it'll be spending in early access focused on tweaking usability and balance, and (if Opus Magnum was any indication) squeezing in a few more master-grade puzzles. The launch version will be "functionally complete", with a story campaign, puzzle editor and Steam Workshop support for creating and sharing puzzles. Plus two optional minigames, which seems to be a bit of a recurring theme for the studio in recent years.
Exapunks will be launching as early access on August 21st here on Steam.