Explore a technicolor forest in Shape of the World demo
Literally shape the world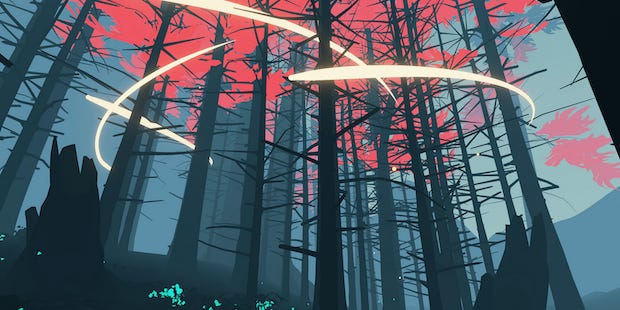 Shape of the World is a new explore 'em up game that has all the colors and shapes you might want, if you're a big fan of colors and shapes that make you feel things. Way back in 2014, Hollow Tree Games ran a successful Kickstarter to get SotW off the ground. Now it's a reality. Or whatever we should call the trippy world made manifest here. Reality probably isn't the term.
Shape of the World is a procedurally generated world which is shaped around your interaction. So. The title has some meanings, you see. It's an organic and mysterious eco-system that changes every time you play. It even changes when you decide to retrace your steps? Wow. Okay, I'm all in for this.
You can grab the demo right now. Although, maybe you don't want to?
The game is listed as being between a one hour and three hour experience, depending on how much of yourself you want to invest and what speed you take these events at. I'm saving myself for the full release, because I'm not sure I want to dip a toe in for ten minutes when that might be a pretty good percentage of my full time I get to spend in this world -- and what a beautiful world it is too.
There's footage of the demo here, if you don't have time to dive in right now on your PC. (Should also note that the game is coming to every platform, including Switch, so you can go on this adventure with your controller of choice.)
It just looks so so so so good.
You can grab the game on Steam on June 5th. And everywhere else by June 6th.