F1 2015 Features Trailer Zooms Into Our Lives
Zoom zoom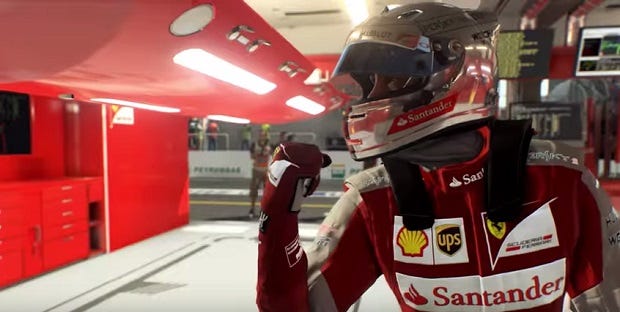 For a game about going really fast, Formula 1 2015 [official site] seems to have taken forever to get here. It's now just days until the game's release, and Codemasters are drumming up excitement with a new features trailer. The video exhibits lots of shiny cars, emotionally stirring music, and a reminder that the game that was supposed to be here last month will finally arrive soon.
F1 2015 brings with it an all-new game engine and the promise of a fresh start for a series that took a step back in 2014 by dropping much-loved features. Codemasters have already talked up how superior the handling will be compared to the last instalment, and now it's focused on telling us how much better the game looks. New intro sequences and "television style" cameras and replays will make the fast and shiny cars look faster and shinier than ever before, and there's a hyper-realistic Pro Season mode for those that fancy themselves a real race driver.
The classic cars that disappeared last year aren't coming back any time soon, but you can drive... the cars from F1 2014. You'll actually be able to race the whole 2014 season as bonus content. I suppose a car made a year ago is a bit closer to being classic than a brand new one? No, I don't have very much to say about cars. Why do you ask?
F1 2015 is due July 10th in Europe, but the North American release isn't due until July 24th. No Oceans goes both ways, Codies.