Vroom Vroom! F1 2016 Released
Doing it right?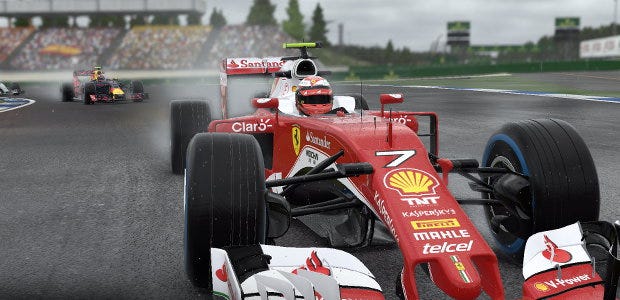 The world's largest sporting event may be going on (the RPS Summer Games, obvs) but not everyone's invited. Apparently some old fella named Ian Lympics decrees what is and isn't sport, and he has little time for anything invented after the 19th century. Undeterred, eSports ploughed on and held Dota 2's International and motorEsports are now virtuavrooming in F1 2016 [official site]. Codemasters today released their latest Formula 1 racing sim, and after a couple of disappointing years it sounds like this is a solid addition. Vroom!
Headline features with F1 2016 include full 22-player multiplayer and saveable multiplayer championships, which means you and 21 of your pals can race out a full season week-by-week if you fancy. It also brings back Career Mode, for folks to race with progression, and safety cars for sensible drivers. And lots of other technical and minor bits that I'm sure you'll have read about before if you're serious about F1, which I won't pretend I have the in-depth knowledge to explain.
Early Steam player reviews are looking surprisingly positive, with many saying it's a big improvement over F1 2015.
F1 2016 is £39.99/49,99€/$59.99 on Steam. It is also sold in something called a 'box'?
Here's the launch trailer: