Fable Fortune clucks into early access
With wacky English accents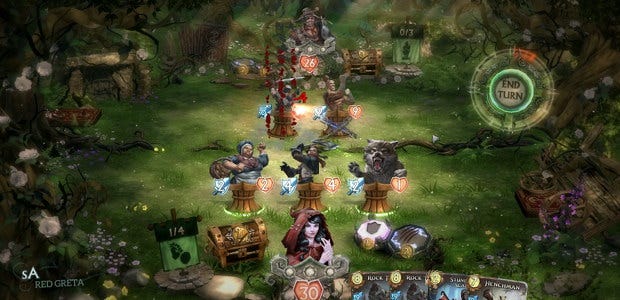 Fable Fortune, the card battler spun off from Lionhead's chicken-kicking RPG, has entered paid early access. This might be the final Fable game, an odd survivor which was meant to be a small side game but fled to independence after Microsoft closed Lionhead Studios and cancelled Fable Legends. Fable Fortune is a collectible card game in the Magic-y, Hearthstone-ish way, and early reception seems actually pretty positive. Here, this video explains how it works:
As is the way, you build a deck with cards representing units and abilities then send them out to duff up an opponent who's done the same. In a Fable-y twist, Fortune lets players be good or evil, a decision which can change the abilities of cards. For example, the Dog (of course there's a dog) can become good and find you treasure or be bad and gain a bonus attack.
Having collected my way through too many card games in my time, I do also like the idea that the player who starts second gets to pick a card to go into their opening hand. Hmm. Coupled with solid early reviews from people who seem to have played a load earlier in beta. Hmm! I really shouldn't.
Fable Fortune will be free-to-play when it launches properly, so the early access 'Founder's Pack' throws in a load of card packs plus a unique Chicken Vengeant card and a Giant Egg. A 20% launch discount brings it down to £7.99/10,39€/$11.99 on Steam. It's on Microsoft's Windows 10 Store too. Unlike many Store games, this supports cross-platform play between Steam, Windows 10, and Xbox One.
Developers Flaming Fowl Studios expect the full launch to come within 3-6 months. You can see their development roadmap for the full plan, and this 'State of the Game' post drills into more immediate specifics.