Fable Card Game Cancels Kickstarter, Finds New Funding
Good Fortune!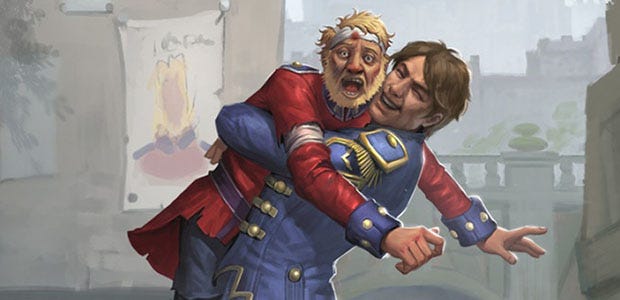 Remember a month ago when Pip told you that Fable Fortune [official site] was a card game from ex-Lionhead developers seeking funding through Kickstarter? Sike! The developers have announced they've received "additional funding" that no longer requires them to use crowdsourcing to make their game. Oh lord, you should see your faces right now!
Okay but on a more serious note, this is a good thing for Fable Fortune. It was very unlikely that Flaming Fowl Studios would reach their £250,000 goal, as with about a week left in the campaign they had only raised £58,852. Despite the apparent lack of interest, evidently someone believes that Fable Fortune could be a success. That probably has to do with the fact that, despite Microsoft putting Lionhead down like Old Yeller, Fable still has a little bit of oomph left in its name. And hey, card games are the bee's knees right now.
In a Kickstarter update post yesterday, Flaming Fowl announced that they'd be closing down the Kickstarter campaign and quickly pivoting to building a closed beta build.
"Thanks to your enthusiasm and support, we are happy to announce that we've successfully secured additional development funding! This, alongside our ongoing personal investment, will mean that we can continue to improve the game and allow even more of you to start playing," the update reads. "With the immediate future of Fable Fortune now secure, we have taken the decision to end our Kickstarter campaign early to focus on releasing a Closed Beta build as quickly as possible."
The video above will give you a decent sense of how Fortune will work, and it's pretty similar to Hearthstone in a lot of regards. Where it differs is with quests you select at the beginning of a match that can impact how everything plays out, and with a morality mechanic where your heroes can gain different abilities depending on whether they want to be evil or good.
Flaming Fowl Studios are apparently hard at work on a beta client now, and you can already sign up for access to the closed beta here. Those who backed and received an alpha build will be able to continue to use it until the closed beta is ready, at which point they'll be able to migrate over and play the newer version.