Fable Fortune delayed to later this month
The final Fable?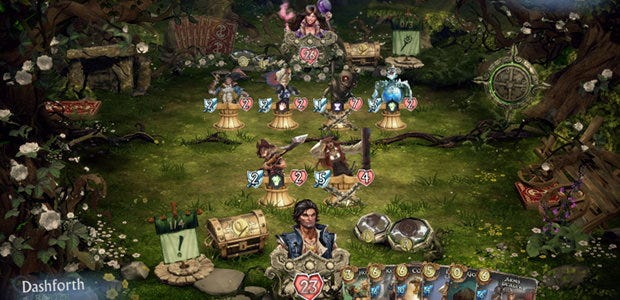 After Microsoft shut down Lionhead, the studio behind Fable and Black & White, in 2016, one little shard lived on. A team had been working on a free-to-play Fable card game, named Fable Fortune [official site], and were surprisingly allowed to continue after the death of Lionhead. Flaming Fowl Studios had planned to launch Fable Fortune into early access tomorrow, Tuesday the 11th, but it has ended up delayed at short notice. If you can't get enough of silly English accents, keep an ear open on July 25th.
Fable Fortune is a Hearthstone-y sort of card game, doing that 'Magic: The Gathering Lite' thing everyone's into these days. One neat feature is that, in addition to competitive play, it has a cooperative mode. Playing with friends is nice.
What's the holdup? Flaming Fowl explained this "unavoidable slip" in Friday's announcement:
"Due to an unexpected administration hiccup we are unfortunately unable to launch the Xbox One version of Fable Fortune next week and we've made the decision to move the launch date back to July 25th on all platforms.

"This is to make sure Fable Fortune releases on PC and Xbox simultaneously, so we can make the most of cross-play between the platforms."
Yes, I say to pre-empt people asking "So is this Windows Store or what?", it is coming to Steam.
The journey to this point has been a difficult one, so what difference does a fortnight make? After the closure of Lionhead, Fable Fortune turned to Kickstarter but it was looking to fall far short of its goal until Flowing Fowl cancelled the campaign as publishers Mediatonic stepped in and opened their purse. Given how many Hearthstony games are going round these days, one based on a recently-deceased series doesn't seem the surest bet but hey, it's their money.