Fall For It: Fallen Frontier Looks Neat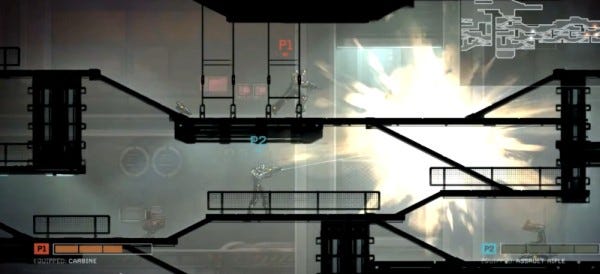 The Indiegames blog has had some hands-on time with indie dev Moonshot's debut title, Fallen Frontier, and I think it looks just fine. Check out the footage after the jump. Yeah, it's another hyperslick 2D platformer with a grappling hook, but look at those explosions! Look at that shotgun! Look at that co-op! And what right do you have to be dispassionate about grappling hooks anyway? What, was your father a grappling hook salesman or something? Get outta town!

That said, I should probably keep my enthusiasm stowed for the moment. The developers have said that while they'd like to release on Xbox Live, PSN and Steam, "a final decision on platforms is usually made with a publishing partner." Meaning, if Big Daddy Microsoft comes sidling up whispering sweet somethings of Xbox Live exclusivity, Moonshot will fall to their knees faster than a gutshot cowboy and this game will be one more brick Microsoft has pried out of our once-noble wall.
Anywaaaay. Fallen Frontier!