Post-Post-Apocalypse: Fallout 4 DLC & Modding Details
Creation Kit not til next year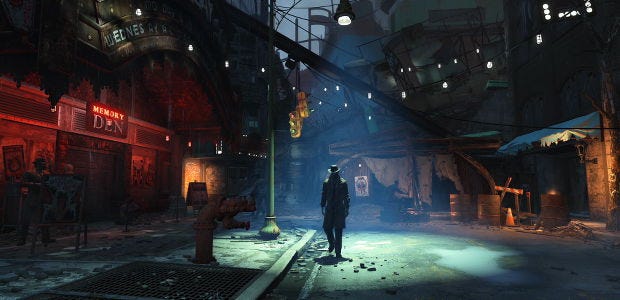 You shouldn't really eye up the dessert menu before your main course has arrived, but sometimes the need to know that profiteroles are definitely available gets the better of one. And so it is that ears are already pricking about Fallout 4 [official site]'s post-launch stuff things, including word of downloadable content and a vague window for its mod support.
There are no details just yet on what the DLC will be, but Bethesda say there will be a season pass for $30 which gets you all of it. They claim what they make will be worth at least $40, by which I hope they mean what all the DLC will cost to be separately rather than that they've decided there is a quality/length/price formula and they now have an empirical value-per-megabyte ratio.
"Since we're still hard at work on the game, we don't know what the actual DLC will be yet, but it will start coming early next year," quoth Bethesda. I bet they have some idea, given Fallout 4 itself is surely deep in bug-splatting, QA, and certification at this point and there'll be a whole load of devs hanging around needing things to do.
Then there's talk of regular updates, referring to the various fixes and tweaks sent Skyrim's way in the post-release months. Truth be told, Skyrim launched in a slightly shonky state on PC particularly, and it took updates such as supporting more than 2GB of RAM and adding proper high-res textures to make it ship-shape. I hope this isn't a veiled admission that they're expecting problems this time around too, though it is at least a promise to be on the ball. And, admittedly, Skyrim did set a precedent for listening to the community and making surprisingly significant changes, so it's nice to hear that should be happening again. Bethesda say they'll work with players to decide what needs to be added, "whether they are small tweaks or new features."
And, of course, modding. Skyrim's ongoing success can be at least partially ascribed to hard work and devotion of its fans, who put out all manner of ambitious, incredibly specific and outright horrifying new material for the game even to this day. Bethesda say "we've made sure to keep Fallout 4 open and moddable at every step in development," but the bad news is that the latest version of the Creation Kit tool with which to make all those lovely mods won't be with us until "early next year." Still, hopefully the main game will occupy people well enough for two or three months. As they've said before, Fallout 4 mods made on PC will be playable on consoles too.
I know it's early doors, but: what mods do you want to see? What do you want DLC to tackle?