Bethesda jack in for Doom VFR and Fallout 4 VR this year
Jack in, gib off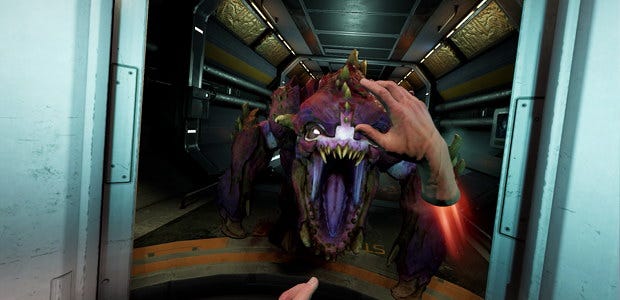 The promised VR version of Fallout 4 [official site] will arrive in October for Vive cybergoggs, Bethesda announced during last night's E3-o-rama. Curiously, Fallout 4 VR [official site] is a separate game rather than an update or add-on - one which will cost twice as much as regular Fallout 4 does.
Bethesda also formally announced Doom VFR [official site], a standalone Doom game made expressly for VR. This is a new game rather than a refit of 2016's game, a new Doom first-person monster-mash. Have a look in this trailer:
Made by the Doomlords at id Software, Doom VFR is a new story about someone killed in the demonic invasion then resurrected as a robosoldier. As is common in VR first-person shooters, movement is with teleporting, though here we also get a "jet-strafe" which looks like a dash with a melee smash - most acceptable.
Doom VFR (what does the VFR stand for? given that a middle initial of 'F' in Doom names tends to mean 'Flipping', I'm going to say Very Flipping Randy) is due some time later in 2017. It'll cost £19.99/29,99€/$29.99 on Steam.
As for Fallout 4 VR, that's due some time in October. Bethesda say, "Fallout 4 VR includes the complete core game with all-new combat, crafting, and building systems fully reimagined for virtual reality." It's more handsy, as you can see in this trailer:
Fallout 4 VR will cost £39.99/59,99€/$59.99 on Steam, which is double the price of Fallout 4 nowadays. Hey, I guess if you own goggs and a PC that can use them, you also bathe in molten gold, wipe your bum with £50 notes, eat endangered animals for breakfast, and employ a butler to do a paper round for you to earn a little extra pocket money.
Unsurprisingly, given that Bethesda's parent company Zenimax have been fighting in court with Oculus and their partners, neither game is currently headed to Oculus Rift goggs. It's Vive or bust (or PlayStation VR), baby.