Fan-made Papers, Please film looks suitably oppressive
Glory to Arstotzka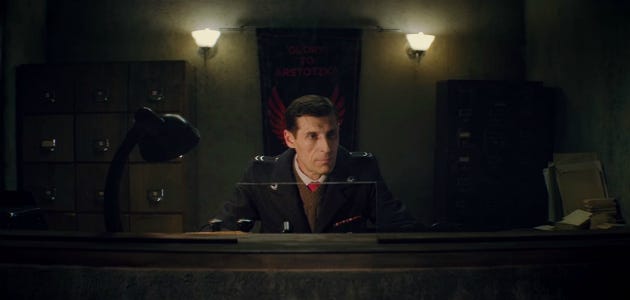 Glory to Arstotzka! A fan-made Papers, Please short film is in the works and, judging by the early videos and stills, has nailed the oppressive atmosphere of the border sim game. The trailer doesn't give much away but still has me hooked, and I love seeing the game's pixel art objects come to life.
The folks behind it are Nikita and Liliya Ordynskiy, graduates of the Moscow Institute of Television and Radio Broadcasting.
Apparently the film was announced earlier this year (it passed me by), and the game's creator Lucas Pope has been consulting a bit for the project. Here's some stills he posted a few months ago:
There's no word on a release date yet, but from Pope's tweets it looks like we should expect it fairly soon.
Not sure actually. AFAIK they've finished the main filming but there's a few technical FX scenes left along with all the post/editing/etc.

— Lucas Pope (@dukope) June 20, 2017
I've never been one for fan-made films based on games but, I don't know, there's something about this one that captures the imagination. Just writing this post has made me put Papers, Please back on my hard drive as well. It's one of my favourite games of the last decade, mainly because of how much it manages to say (part political commentary, part boring job sim) with such limited visual information. Here's John's review, if you're interested.