Far Cry 3's Geographically Unlikely Leopards, Lizards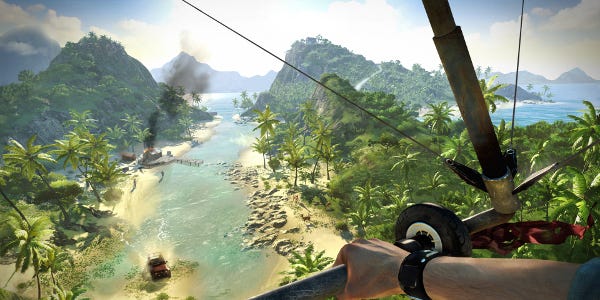 Far Cry 3's Rook Islands contain bears, leopards, crocodiles, and what appear to be komodo dragons. And those things can dynamically hunt the other animals - and humans - on the island. Ubi have put a video which attempts to show off some of these dynamic features, which you can see below. There's a lot of things on fire, of course, and many dudes are exploded. But will all these things add up to an interesting open world? Bears + explosives is an equation that I am very interested in examining with a critical eye. Perhaps writing down the resulting functions on a blackboard. Yes, I'm going to be reviewing this over the weekend, so I'll be able to tell you all about lizards versus pirates next week. Review on the 21st.
(It's got to be better than Far Cry 2, right?) The game is out November 29th in Europe and December 4th in North America. Haha.