Far Cry Primal Trailer: Fight Mammoths With Spears
And saber-toothed tigers too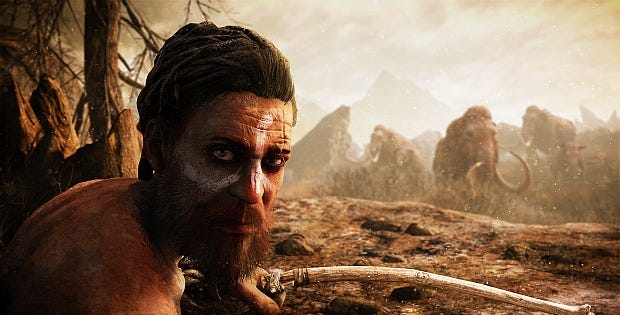 Update: There's now proper trailers and everything, embedded below, or hop to this post for Far Cry Primal's release date, screenshots, trailers and more.
Viral marketing isn't entirely going Ubisoft's way lately, but at least having their own promotional rug for the next Far Cry pulled from under them by a loose-lipped IGN Turkey means exciting news rather than quizzical looks. Yep, the next Far Cry is, it appears, to be named Far Cry Primal and is set during the Ice Age.
Here's the reveal trailer:
And here's one explaining the "creative vision" behind the game:
Ubisoft attempted to tease the news with a livestream that depicts nothing but a cave painting, depicting images of fur-clad barbarian types, sabertooth tigers, bears, rhinos, what looks like an offering to some sort of sun god and MAMMOTHS. We all want to fight a mammoth, right? Haven't done that since Skyrim.
Shortly after the mysterious stream went up, IGN Turkey tweeted some artwork and the name 'Far Cry Primal.' That tweet has since been deleted and somebody has probably just spent a sleepless night wondering whether disrupting a carefully-coordinated marketing campaign will cost them their job. Naturally, the confirmation was recorded elsewhere for posterity, plus it also caused Kotaku to break cover and state that they'd long heard rumours of a prehistoric Far Cry. They also speculate that this will be a Blood Dragon-style interim game rather than Far Cry 5, though I'm thinking it seems like a bigger and more elaborate deal than Blood Dragon was.
I'm quite excited. One of the main reasons Far Cry 3 and 4 didn't entirely click with me was the smart-ass dialogue and contrived civil war / heart of darkness settings and themes. Actually saying 'screw it, actual survival theme' makes a whole lot of sense, even before we get into the giant prehistoric wildlife. But we should get into that, because the animal hunting is one of FC3 & 4's greatest (if most gruesome) joys, so it's eminently wise to potentially be expanding upon that side of things.
Also no guns, presumably, unless they're doing something sci-fi too. I just hope that conversation is barked single words and grunts, and we're not going to get early humans speaking like 21st century know-it-alls.