Far Cry Primal Info: Release Date, Screenshots, Trailers
Everything there is to know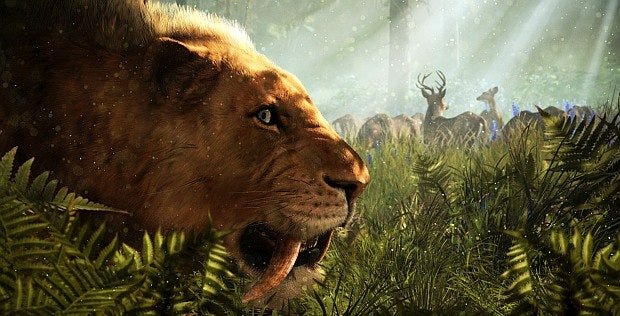 Ubisoft attempted to announce Far Cry Primal [official site] with a tantalising livestream, which was rather spoiled by a brief leak of the game's name and basic details. Now we know more, including proper trailers, screenshots, and a release date... which will see the game land on PC the month after it'll arrive on console.
First, here's the reveal trailer:
Gosh, Far Cry is quite pretty, isn't it? My favourite parts of these games are always the bows and arrows, so a game primarily about those and spears seems very appealing. More broadly, it seems as if the game is taking cues from the recent spate of survival games. From the press release:
Gamers play as TAKKAR, a seasoned hunter and the last surviving member of his hunting group. Arriving in the majestic and savage land of Oros, players will pursue one single goal; survive in a world where humans are the prey. They will meet a cast of memorable characters who will help them push back and tame the dangers of the wild. Players will journey as the first human to tame the wilderness and rise above extinction. Along the way, they will have to hunt for food, master fire, fend off fierce predators, craft weapons and tools partly from the bones of slain beasts, and face off against other tribes to conquer Oros.
I've become lukewarm on survival games due to the shear number of them in early access, but I'm interested in how a comparably big budget series like Far Cry might absorb some of those ideas and make them palatable to what surely must be a larger target audience. Or maybe it'll be the same old thing - sabertooth tigers delivering monologues about the human condition in carefully mocapped scenes - but with the merest hint of, 'Yer cold meter is low, find a fire to stand nearby for a bit.'
Worse news might be that the game is releasing on February 23rd 2016 for PlayStation 4 and XBone but won't come to PC till March. Hopefully that means only a delay of a week-and-a-bit, but it's a shame there's any kind of delay at all.
Here's another video, this one featuring talking heads from the development team:
And here's a set of screenshots: