Far Cry: New Dawn blasts into the post-apocalypse in February
Is that Jared Leto again?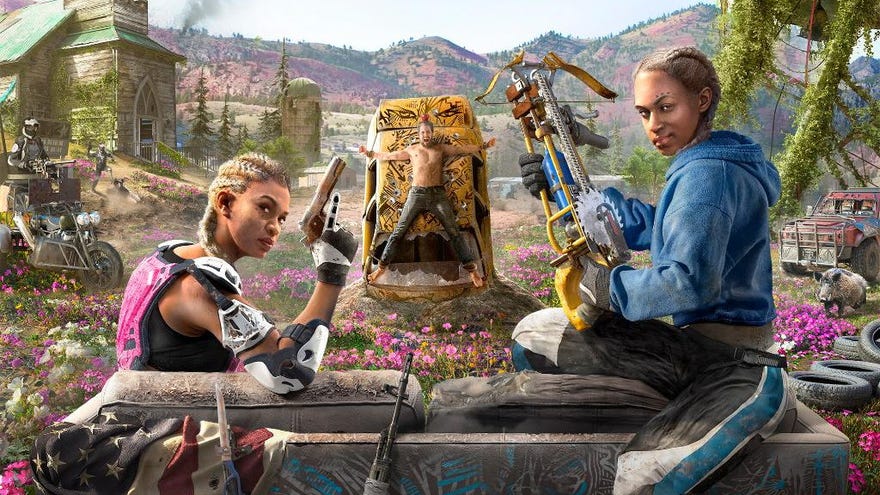 That post-apocalyptic new Far Cry teased earlier this week is Far Cry: New Dawn, Ubisoft announced tonight, a standalone sequel to Far Cry 5 set after seventeen years after that game's nuke-slinging ending. It'll send us roaming the colourful wasteland of Hope County and beyond to thwart a vicious gang of raiders led by twin sisters by doing the usual Far Cry explore-o-craft-a-shooting. What you most need to know is: it will have a Shiba Inu dog and giant pig as potential animal friends. Oh, and it's due in February. Here, watch the announcement trailer.
You may be wondering: is this a comment on racial politics in the USA? The answer is surely: if it's meant to be, Ubisoft will never admit that and it definitely won't be a good or cogent comment.
As for what it actually is, it's like Far Cry 5 but with a post-apocalyptic style and a few new features. Help survivors, explore an open world, shoot faces, craft things, clear out outposts, build up a homebase, and so on. While it's obviously based in Far Cry 5's setting of Hope County (and god, has that Jared Leto dickhead again?), Ubisoft say it will explore further afield on certain missions, visiting places "including wetlands, canyons, and coastal regions."
Far Cry 5: New Dawn is due to launch on February 15th, 2019. It'll cost £38, and the Steam page is already up. Its site has more info and all.
Tonight's announcement came from The Game Awards, Geoff Keighley's marketing-o-rama with bonus trophies.