Feed The Trolls: Ithaka Of The Clouds Crowdfunding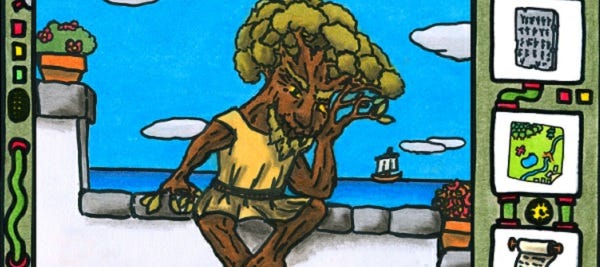 Jonas and Verena Kyratzes have been opening windows onto their Lands of Dream for several years now, with a trilogy of free releases followed by the duo's first commercial adventure, The Sea Will Claim Everything. For Ithaka of the Clouds, their largest game to date, they have turned to Indiegogo. Backers have already pledged more than half of the $12,000 total and with 28 days left, success is likely. If you haven't played any of the previous games, you can find them here. I usually feel like I'm missing something - or something is missing me - when I wander in the Land of Dreams, although I do enjoy being in the company of such strong and unusual voices. Thematic details below.
Are you ready for poetry?
In short, Ithaka of the Clouds is a game strongly inspired by the sensual, philosophical and historical poetry of Constantine Cavafy (1863-1933), one of the greatest modern Greek poets. It's not a direct adaptation and knowledge of his works will not be necessary, but their themes will be strongly drawn upon.
It's not quite Leisure Suit Larry In the Land of Dreams then, I guess.
Ithaka of the Clouds is the story of two lovers and their travels across the Lands of Dream as they seek the legendary city of the title. And it so happens that the two lovers are both trolls, creatures that human stories have often painted as frightening barbarians.
If you haven't already, why not try the first three games and, if you like what you see, Ithaka will happily take your pledges and there's also The Sea Will Claim Everything to dip into.