FIFA 19 yoinks the Champions League
Hard luck, PES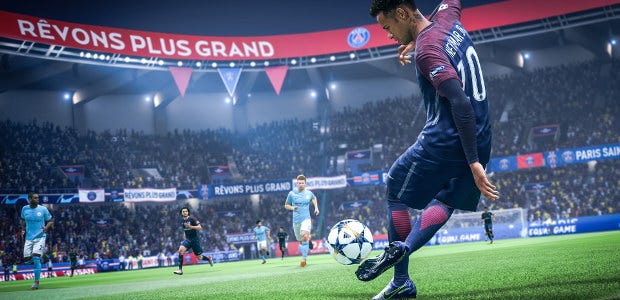 EA have landed the Champions League license for FIFA 19, taking possession from Konami's rival Pro Evolution Soccer series after its 10-year deal expired. Y'know, the Champions League, the Pan-European football competition with the sixth-best theme song in sporting television (after Formula 1, the Test Match Cricket, Football Italia, BBC Snooker, and Monday Night Handegg). The Champions League will be splattered all across FIFA 19, getting its own mode, sending Alex Hunter to play in it during its story mode 'The Journey', and popping up in FIFA Ultimate Team and all that too. And most importantly, it has that song. Well, kind of. Here, give this trailer a listen.
Yup, that's a remix of Tony Britten's dear old Champions League theme - by Hans Zimmer (couldn't you tell from the bwamps?) and featuring Vince Staples.
For those who aren't into the fitba, let's just say that the Champions League is a 352-player battle royale mode with 32 squads of lads from across Europe, who are all hoping to be the last team standing and stand on the podium chanting those famous words: "winner winner, trophy-lifter".
See the game's site for more on all that.
FIFA 19 is due to launch on September 28th via Origin, priced at £55. It's made by EA Canada.
Check out our E3 2018 tag for more announcements, trailers, news, and goodness knows what else.