Final Fantasy XIV's Revenge Of The Horde Update is Live
Different Horde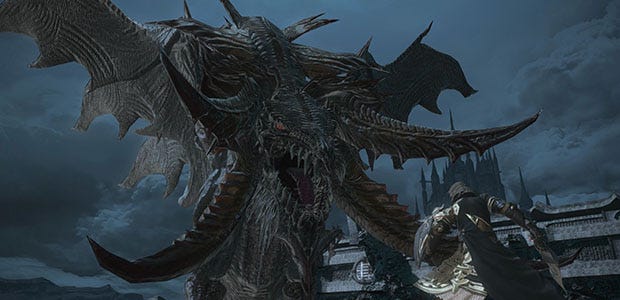 FOR THE HOR—wait what? Different horde? Well this is awkward... anyway, the new 3.3 update for Final Fantasy XIV [official site] is live today. It's called Revenge of the Horde but has surprisingly little to do with shamanism or the phrase "zug-zug!"
Patch day is always a fun day because it means another hearty helping of things to dig into, and Revenge of the Horde seems pretty damn hearty. Going live yesterday, the new updates includes new dungeons, raids, storyline quests, PVP modes, and everything that Final Fantasy XIV tends to pack into it's bigger releases. I've been unsubscribed for a few months, but I think it's time to rectify that.
Since launching in 2013, Final Fantasy XIV has kept a pretty admirable schedule that introduces large updates every 3-4 months. A big focus is adding a host of new content for groups, like sky-high Sohr Khai and a hard mode for Hullbreaker Isle dungeons. Two new eight-man trials (think special boss battles) are also present, including being able to square off against the dragon Nidhogg. And finally, as is tradition, odd numbered patches in Final Fantasy XIV add a new 24-man alliance raid, this one's called The Weeping City of Mhach. That's not everything either (I wasn't kidding when I said these patches were big!), there's a new PVP mode called Fields of Glory (Shatter) that lets you battle it out in three teams of 24 for various objectives and rewards.
Of course, there's over a dozen smaller additions like new equipment, story quests, secondary quests, hairstyles, and more. I could go on, but seriously you should probably just read the patch notes if you're that interested. If you haven't played Final Fantasy XIV before and aren't overly tired of MMORPGs inspired by World of Warcraft, I'd recommend checking this one out. The dungeons and party content are always top-notch stuff!
Either way, Final Fantasy XIV fans should have plenty of things to enjoy until this winter when the next patch is due to arrive. Also there's more moogles.