Five Nights at Freddy's creator jumps back from series
BOO!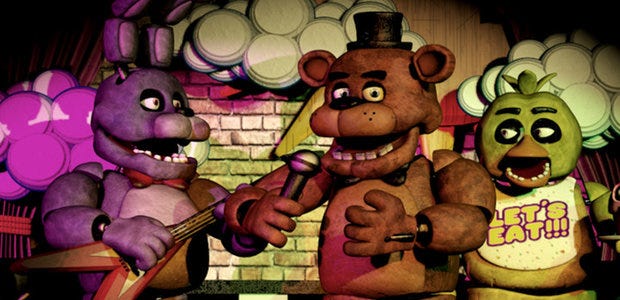 Several years ago, I went through a list of over 1,000 fan-made games inspired by Five Nights at Freddy's. And that was before the jumpscare 'em up series really took off. Several games (and one troubled spin-off) later, creator Scott Cawthon has confirmed that he was working on a Five Nights 6 of sorts - but confirmed this by announcing its cancellation. The pressure of fan expectations was too high, he says, so he's stepping back to spend more time with his family and make something else. Sounds sensible.
"For the last month or so I've been dropping hints about a new game; and it's true that I'd been working on one (call it FNaF 6 if you'd like.)" Cawthon said in Friday's announcement. He continued:
"But after forcing myself to keep working on it day after day, I realized something- I just don't want to work on this. With each game's release, I think the expectations get higher and higher for the next, and rightfully so. Each game SHOULD be better than the last! But that pressure starts to mount, and I fear that I've been neglecting other things in my life for the sake of trying to keep up with those mounting expectations.

"So, after giving this a lot of thought; I've decided that I'm going to stop working on it. I'm not going to reveal anything else about what the game was, and I've asked other people involved to never divulge anything either. It's just not going to be talked about."
Fair does!
Cawthon says he wants to "get back to what made game-making enjoyable in the first place" and has a few ideas for games that might be fun for fans. "Maybe I'll try my hand at a pizzeria tycoon game, who knows." And he'd like to make a VR game, and the Five Nights movie is still in the works at Blumhouse (who've produced most big modern horror movies, from Paranormal Activity to Get Out), and he fancies a third Five Nights book, and... look, he's going to step back from the main games.
If you don't know much about Cawthon, do check out his interview with Geeks Under Grace from 2014. He started out making explicitly Christian games but those flopped, he struggled with depression, and he ultimately came to make Five Nights at Freddy's after someone said a character he made for another game looked like a scary animatronic. With Five Nights now a megahit, it's been quite the trip.