Five Nights At Freddy's: Sister Location Gets First Trailer
Welcome back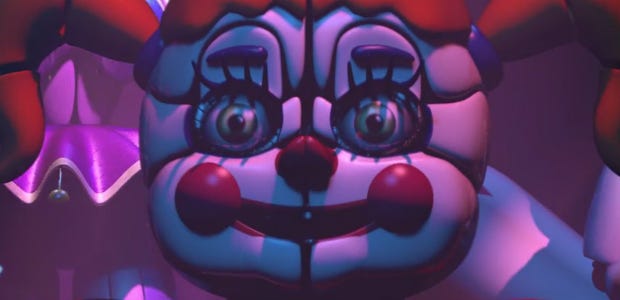 I have the cold today which means I'm irritable and sniffly and struggling with the Monday morning blues more than usual. Perhaps the first trailer for animatronic scare fest Five Nights at Freddy's: Sister Location [official site] that snuck out of the shadows over the weekend can scare the sickness out of me?
Light on scares, then, but probably the most sophisticated FNAF trailer we've seen from creator Scott Cawthon so far and one which looks to recapture the unsettling horror of the previous games. Besides the recent and slightly bizarre RPG spin-off, of course.
Since its launch on Saturday, that there video has been viewed over two million times and if that's not enough to illustrate just how popular the series has become in the last two years, the lively discussions taking place among fans as they speculate what the latest footage might mean probably is. I'm really not sure myself, but there's interesting theories doing the rounds.
Although Cawthon had previously suggested Five Nights at Freddy's 4 was to be the "final chapter" of the series, Sister Location's reveal last month confirmed there's life in the old bear yet. There's no solid release date for now, however Five Nights at Freddy's: Sister Location is due for release "this fall". Then again, Cawthon has a history of jumping the gun with regards to schedules so, who knows, you might be visiting his newest nightmare even sooner.