Zoomsmash! FlatOut 4: Total Insanity Coming In 2016
SMASH-O!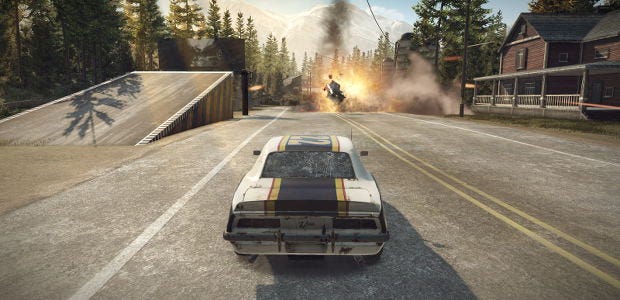 When Bugbear Entertainment crowdfunded their smash-o-racer Wreckfest, they drew from an audience built on their previous crash 'em up series FlatOut. 2011's FlatOut 3 was the first PC FlatOut they weren't behind, and was shoddy enough that it seemed it'd be the last. I'm a touch wary of publishers Strategy First revealing FlatOut 4: Total Insanity [official site], then, but I do like a good bit of blue flash road mash.
Publishers Strategy First announced the game in July but didn't have much to say, anything to show of it, or even a name, so I didn't tell you. Now they do.
Well, a little. They're offering the basic premise of 'racing around and crashing cars and exploding' and seven screenshots demonstrating just that. I like when cars crash and explode.
Strategy First say they want to involve fans, which they're starting by holding a vote on which tracks they should bring back from FlatOut Ultimate Carnage (which Bugbear did originally make). If you're one to skip the small print, do be aware that those videos are from Ultimate Carnage, not FlatOut 4.
FlatOut 4: Total Insanity is being made by WRC 5 developers Kylotonn Entertainment with help from Tiny Rebel Games. It's due in 2016. It will have cars and racing and explosions, and while I can't tell you much more than that, I'm not sure much more is important right now.